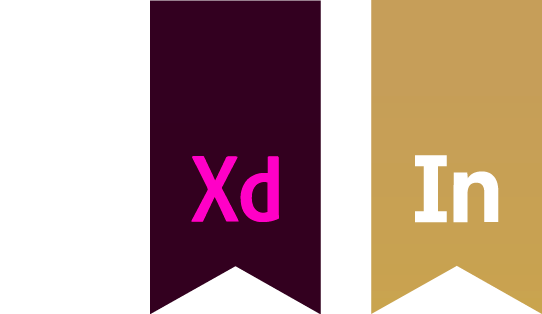 Role : 

UI/UX Design / User Research / Branding
Tools Used : 

Adobe XD / After Effects / Marvel App / Illustrator / Photoshop
WD-40 BIKE is a subsidiary business unit under WD-40 Company focused exclusively on cycling-specific maintenance products. 
It offers an initial product range including wet and dry chain lubricants, a heavy-duty degreaser, a foaming bike wash and a frame protectant. This is a conceptual product design of WD-40 BIKE. Its concept improves the outdated current brand image of WD-40 BIKE and has the all in one solution for bike management, maintenance, and repair.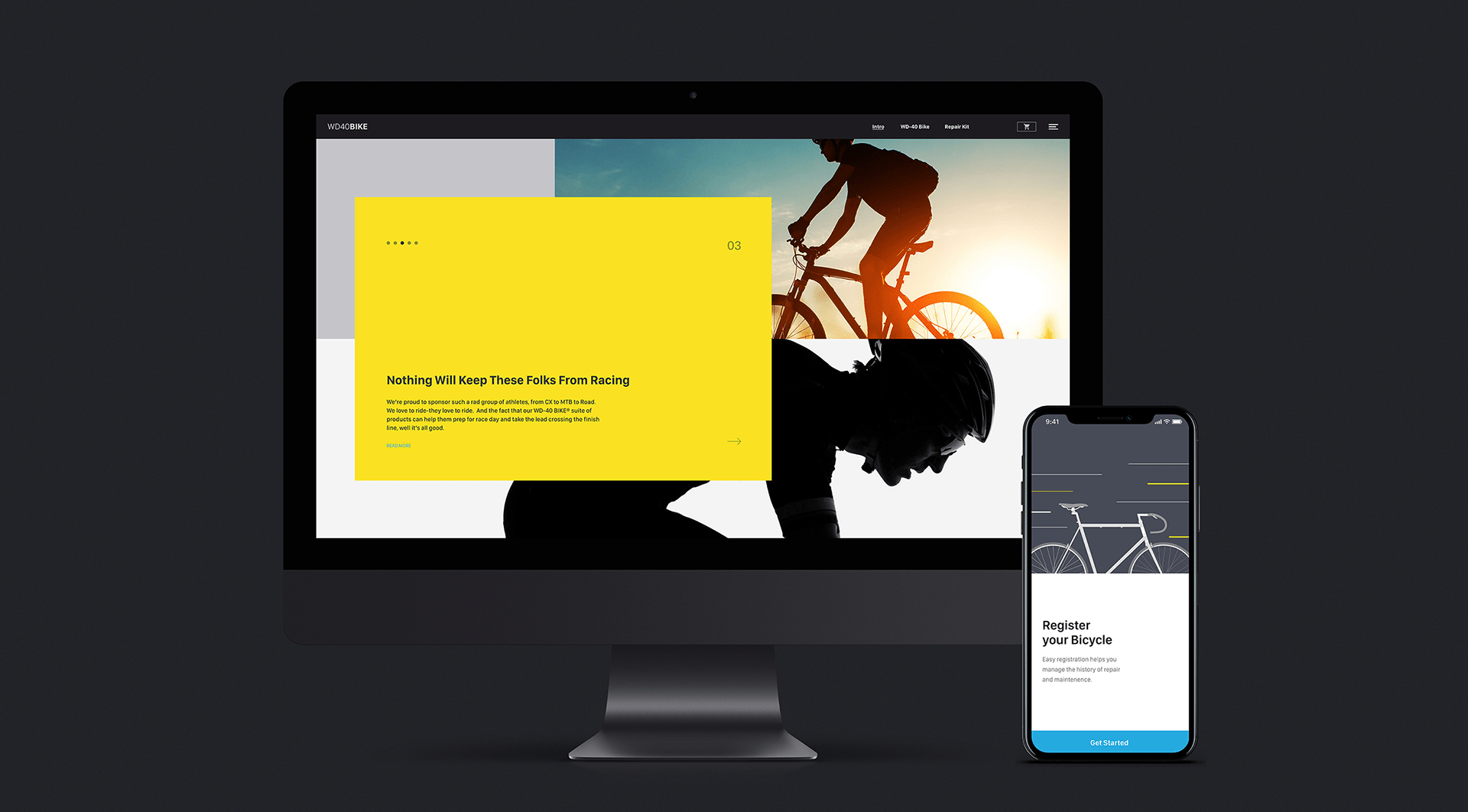 Self-maintaining and repairing bicycle poses many challenges especially when riders don't have relevant repair knowledge and proper tools. WD-40 Bike has a lack of online presence and outdated brand identity reducing inflow and retention of old and new clients. 
Our concept aims to help users in their bike management, while also giving all in one solution in repair, maintenance and finding the tools. The cohesion of new bike repair experience and WD-40 Bike's new brand experience opens up new opportunities for users to manage their bike more seamlessly and efficiently.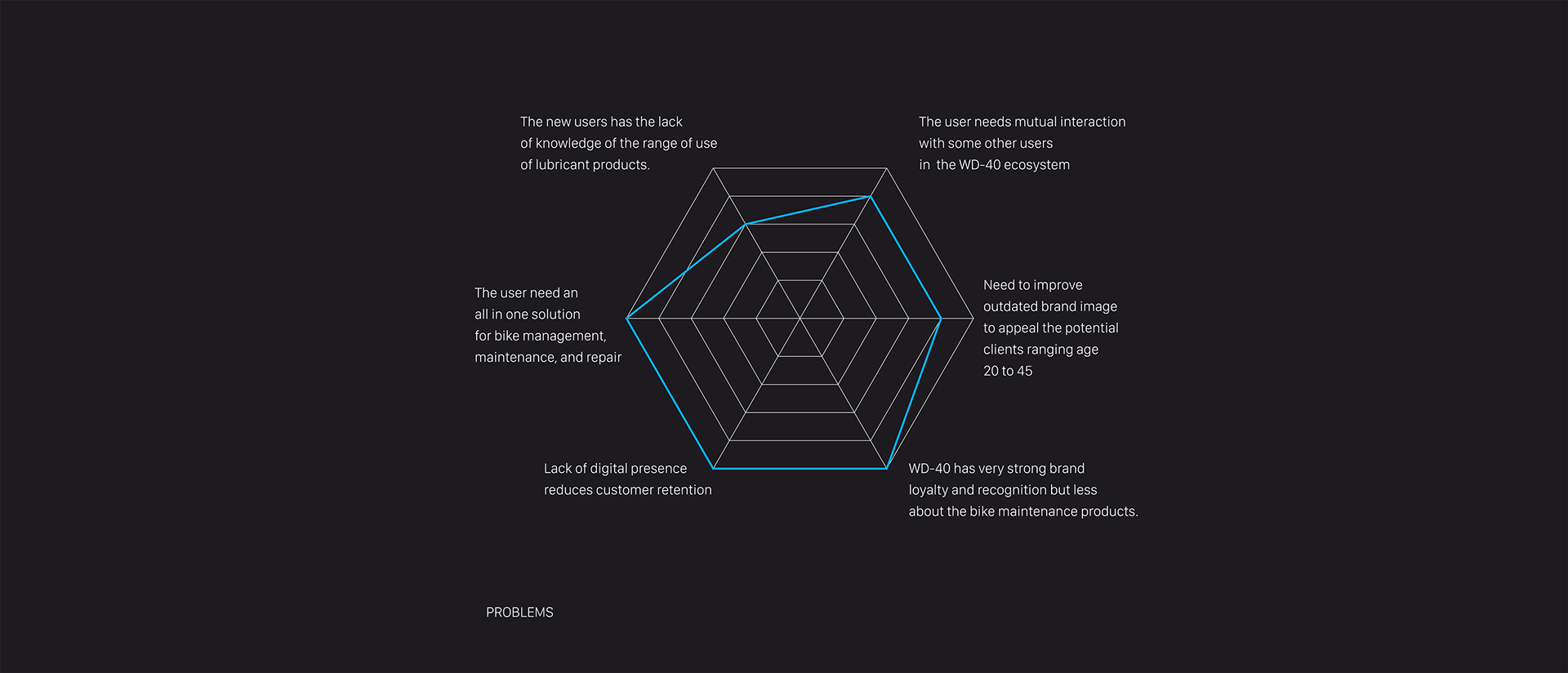 I compiled a list of key questions for a survey to understand the rider's pain points. I actually conducted the small survey with actual riders from my school and local bike shop. These questions referred to the riders and some online research. This survey provided me a lot of information and helped me to understand what pain points the bike rider is actually facing with their bike repair/maintenance experience.
From the research. I knew there are common pain points among riders.
1. Riders struggle to keep self-maintaining regularly.
2. Riders experience pain points to get the repair tools.
3. Riders feel stressed out to search relevant information to figure out their bike problem.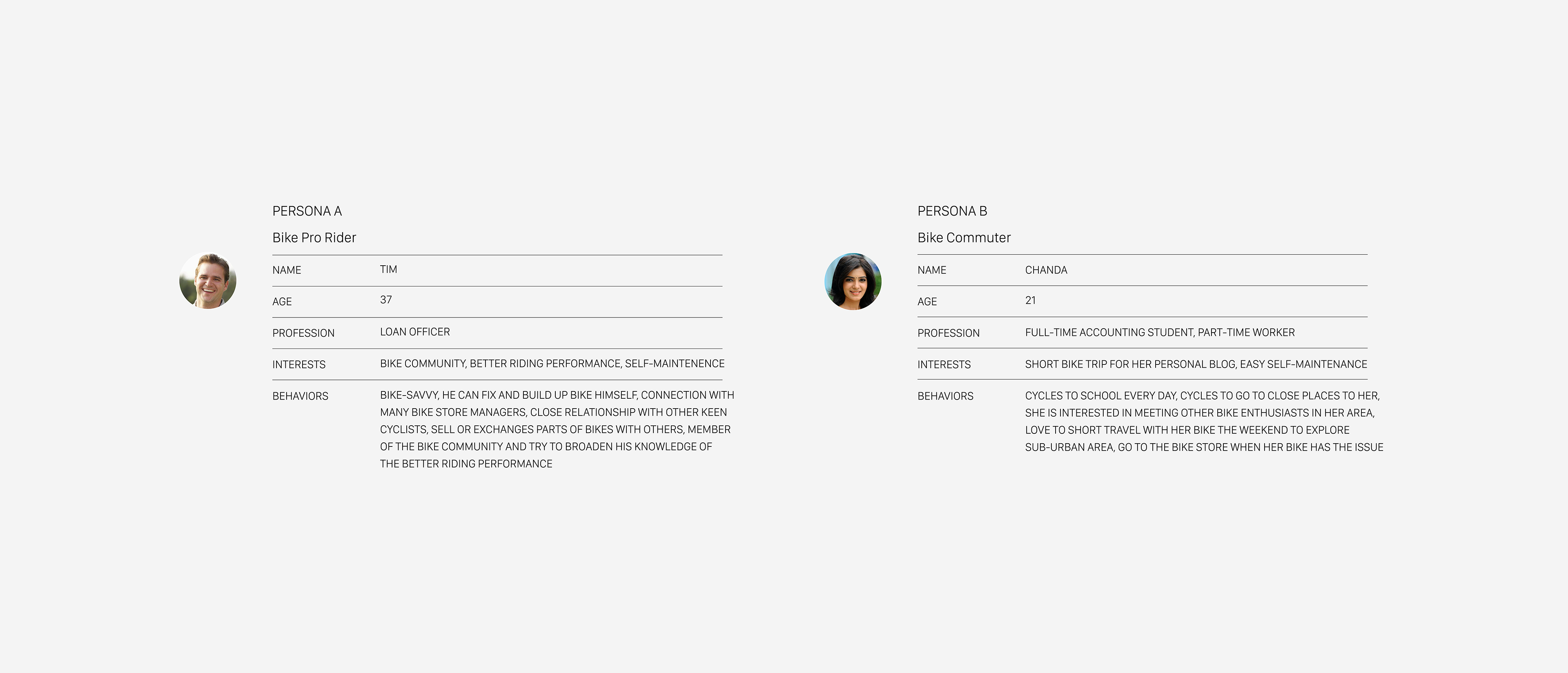 After the user research, I created hypothetical personas called the Bike Pro Rider and Bike Commuter. I knew they bike more than twice a week. they have close relationship with some other riders, and bike anywhere either short or long trip. They're willing to take care of their bike when it has some issue. When it comes to bike repair, cost and time always matters to users that's why they wanted to repair and maintain their own bike themselves.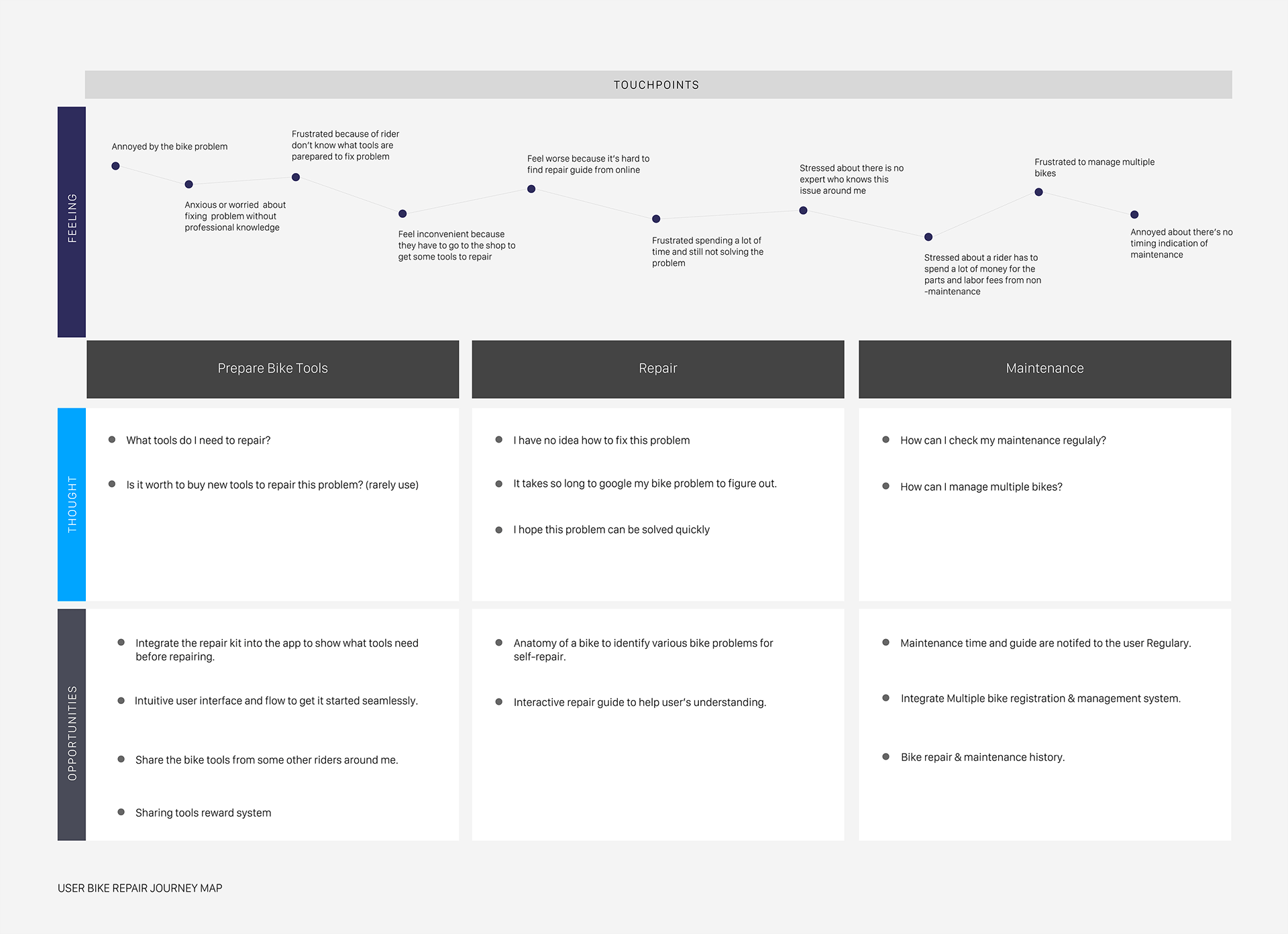 User bike repair journey map
I put the hypothetical personas into user journey map to see their bike repair journey, and I knew the riders have some problems with the resource limitation about finding bike repair manuals and tools.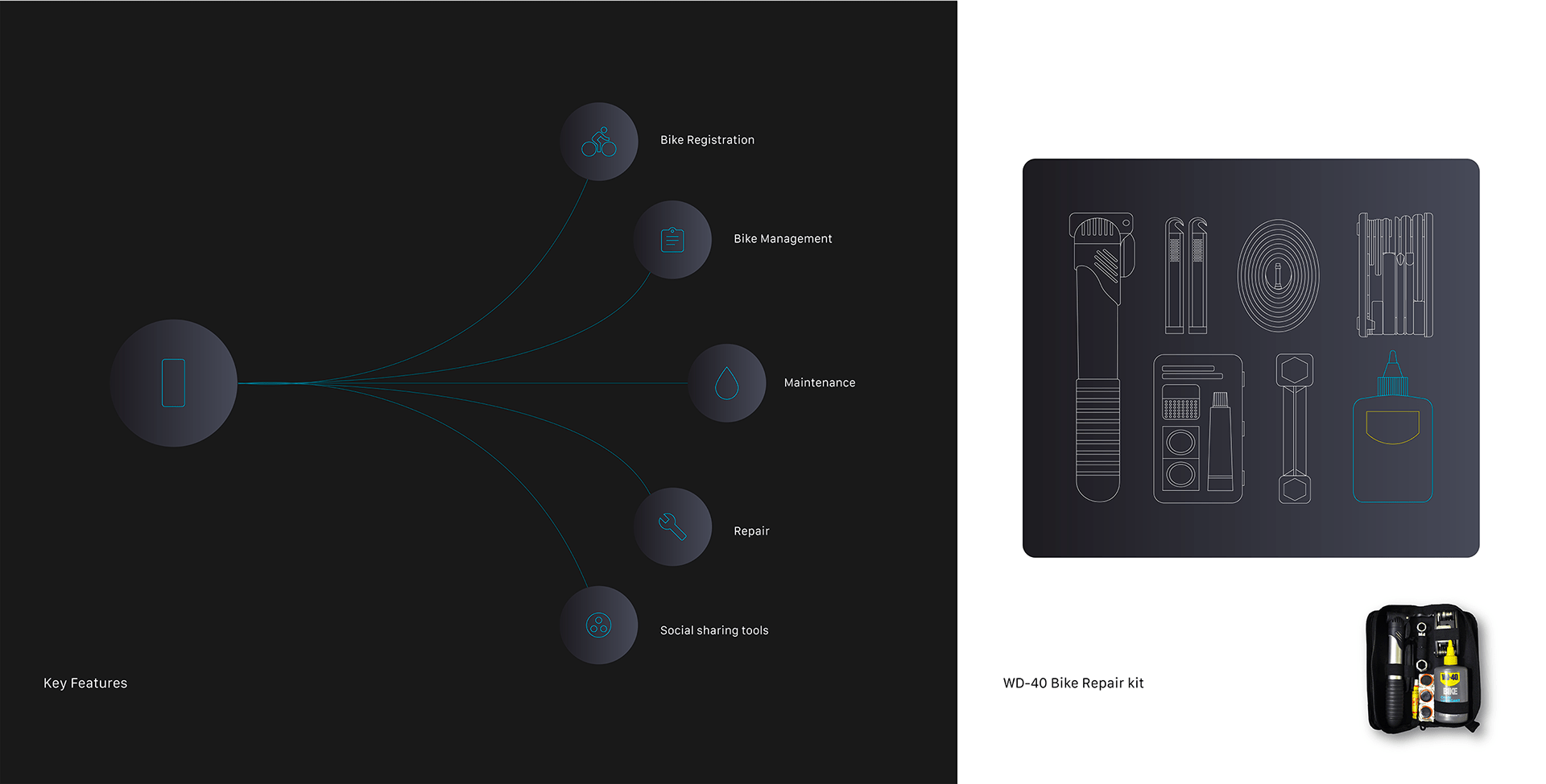 After user journey map, I came up with some solutions, such as bike registration, interactive repair manual, and social sharing tools. User can register their multiple bikes on the app for bike maintenance purpose. They can easily find their bike problem and can repair quickly. They also connect with other users to share the bike tools without purchasing. 
For Brand awareness purpose, Portable WD-40 repair kit including WD-40 lubricant are sold in bike shops. ​​​​​​​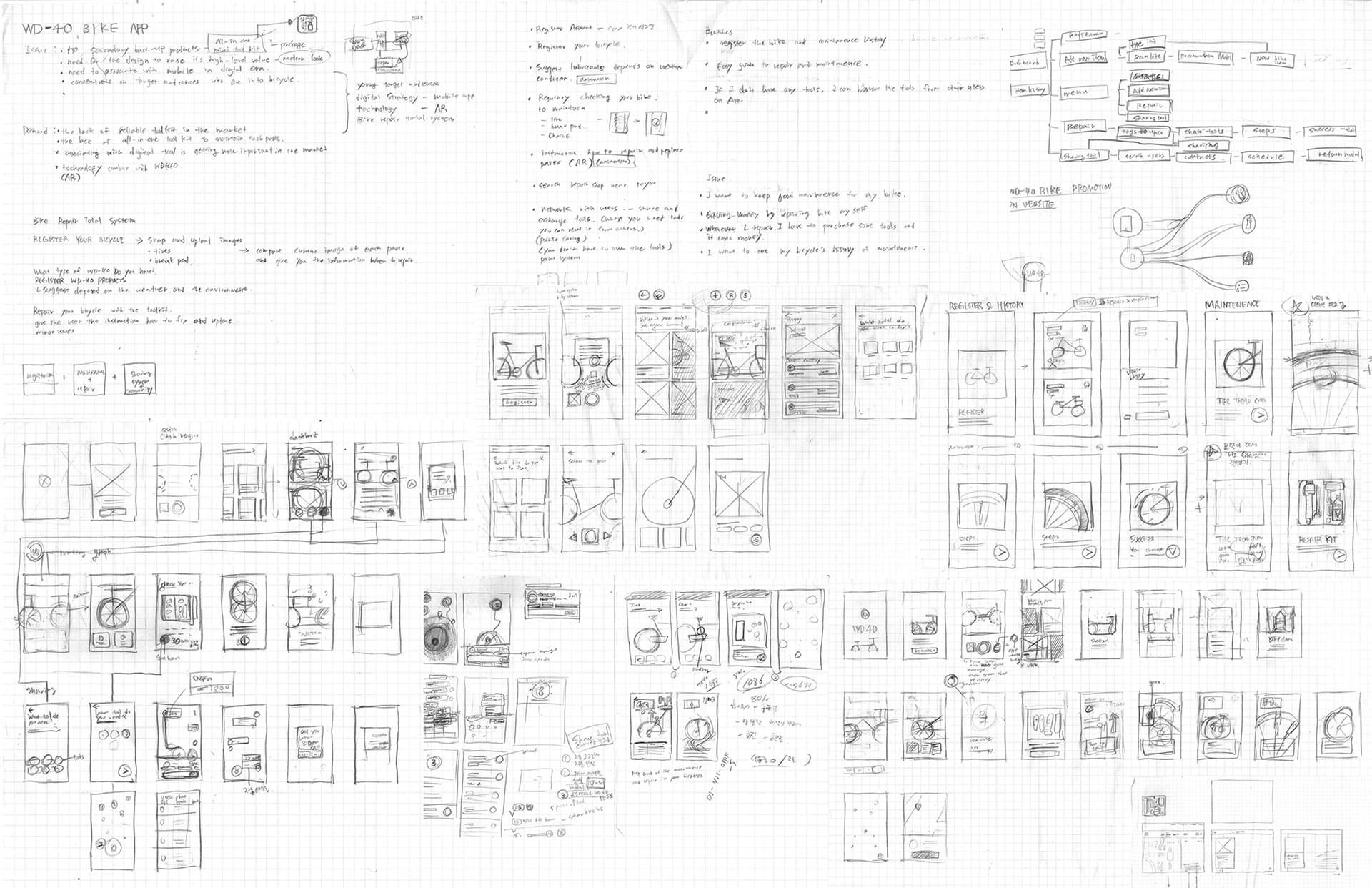 Sketches for flow and layouts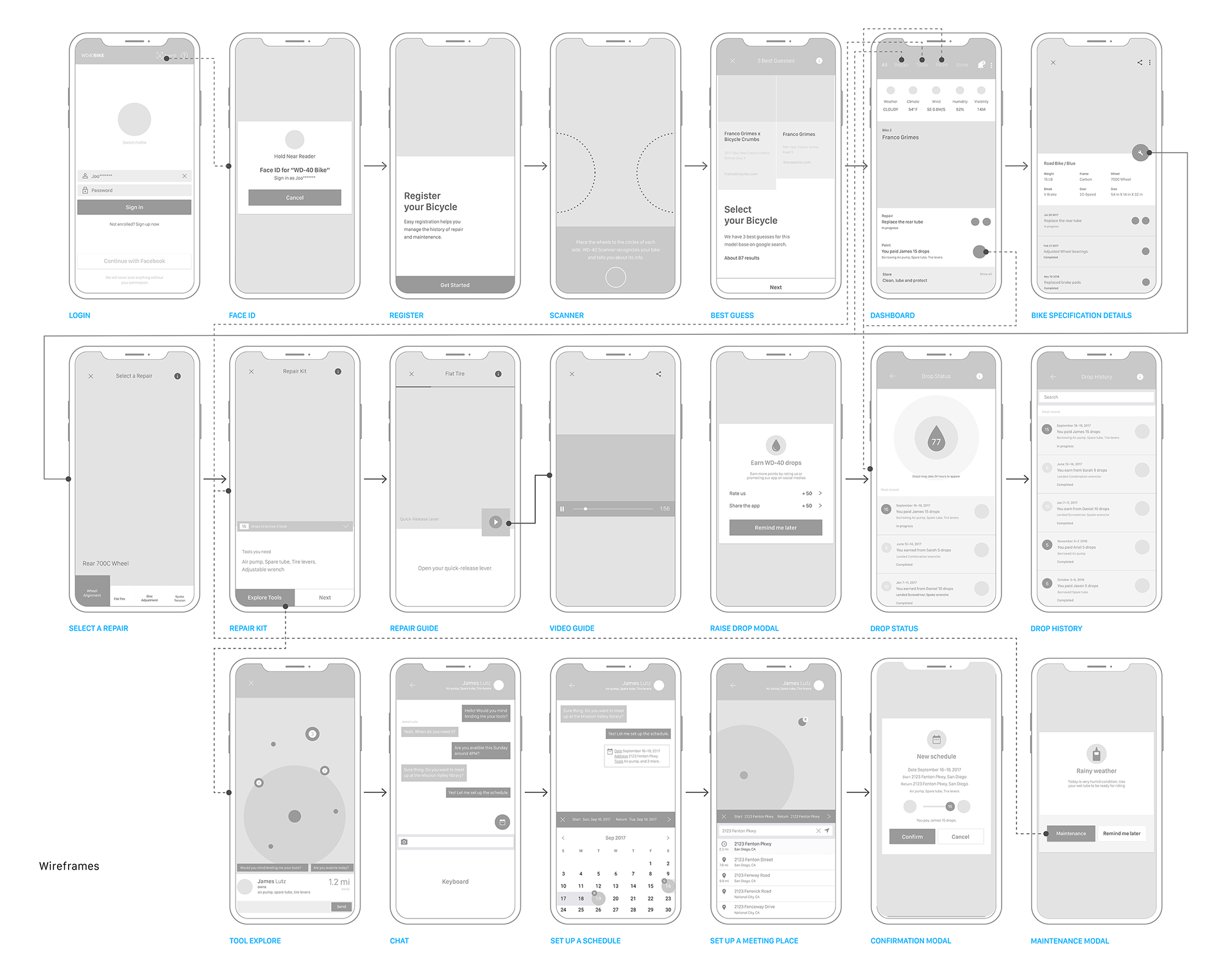 The user, a bike rider in this context, should easily find their bike problem, and then go to bike repair manual, seamlessly get connected with other users to share bike tools. As this can happen in any random order, the app's flow has to be instinctive, almost automatic, so the user can focus on the core purpose of the app: repair & maintenance.​​​​​​​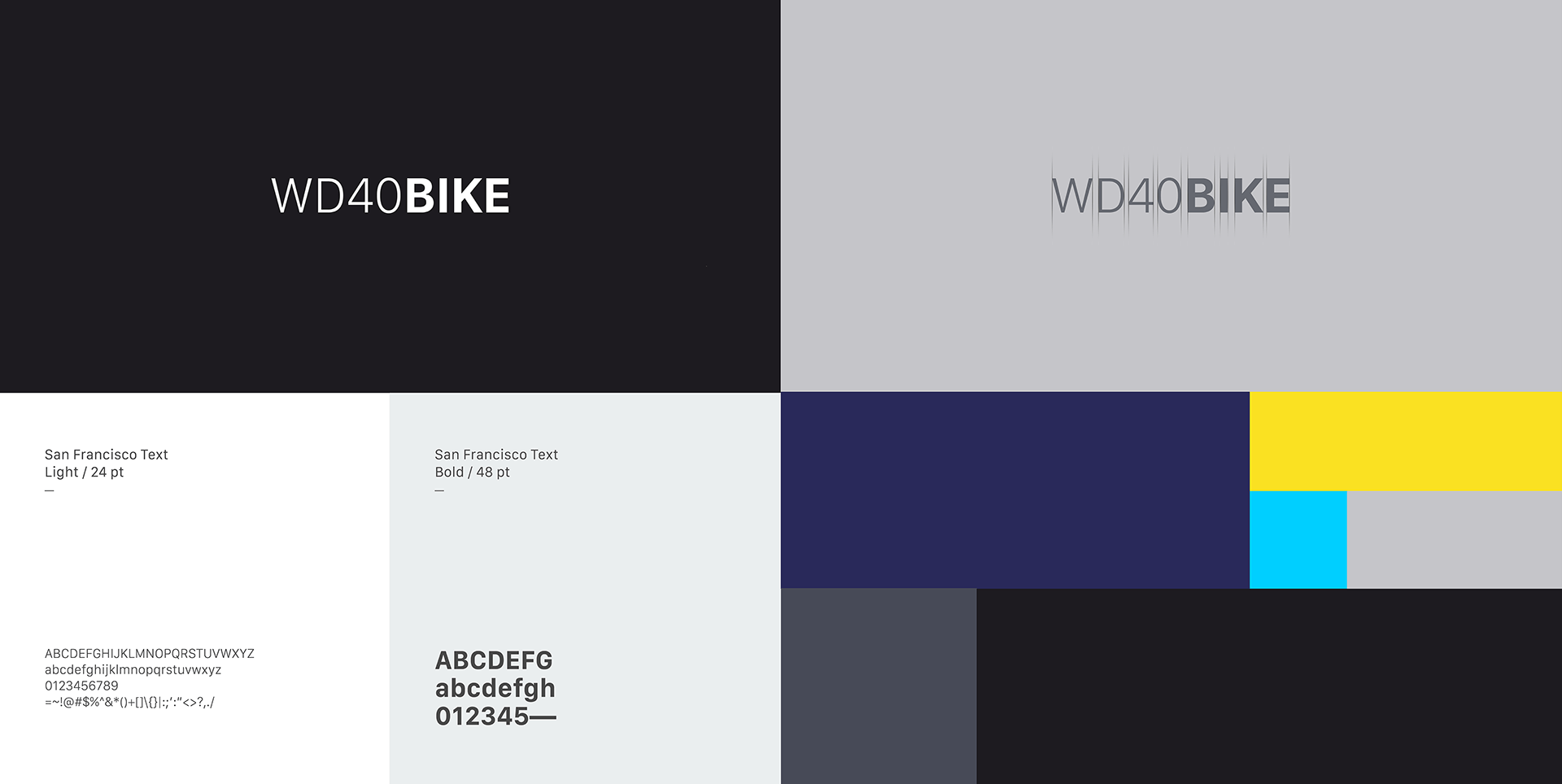 Concept of the brand identity represents the simplicity and clarity. WD-40 Brand's original color palette was used to keep its strong brand recognition.​​​​​​​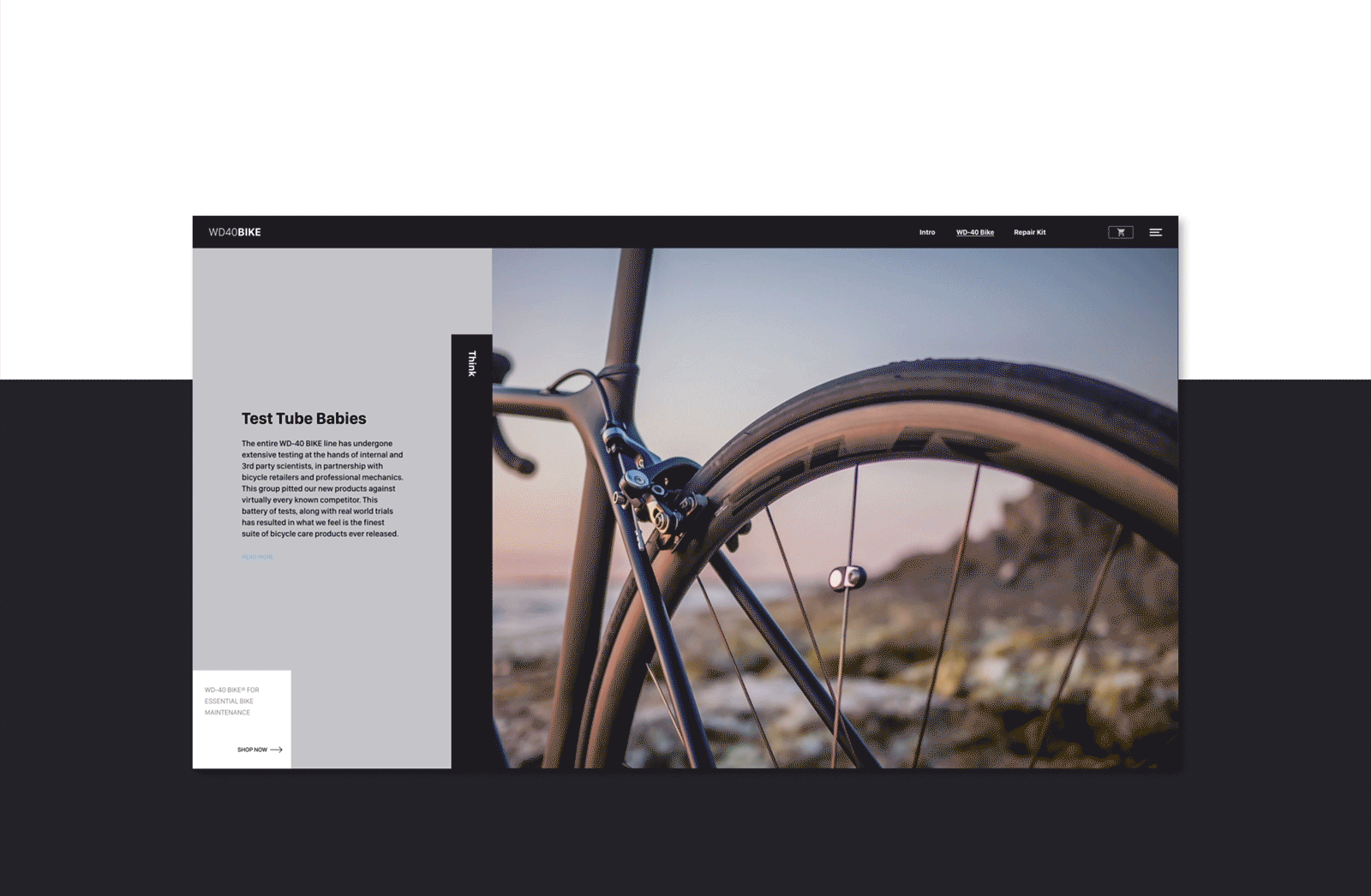 Website is the company's face. Newly renovated website has simple and intuitive design and good storytelling about the products. Its responsive and interactive design make users experience of the product more entertaining.​​​​​​​
Users always want to have better experience with new technology. Face ID is accurate and powerful authentication system. It will make unlocking fast, easy, and intuitive. Dashboard shows the overview of multiple functions, which are outdoor condition, registered bike slots, repair & maintenance history, drop status (point to borrow tools), and bike store (WD-40 BIKE online store). ​​​​​​​
Once user scans their bike, it will automatically bring the information from Google Search. The Scanner gives user the best guesses about the bike model. User doesn't need to fill out when they register their bikes.​​​​​​​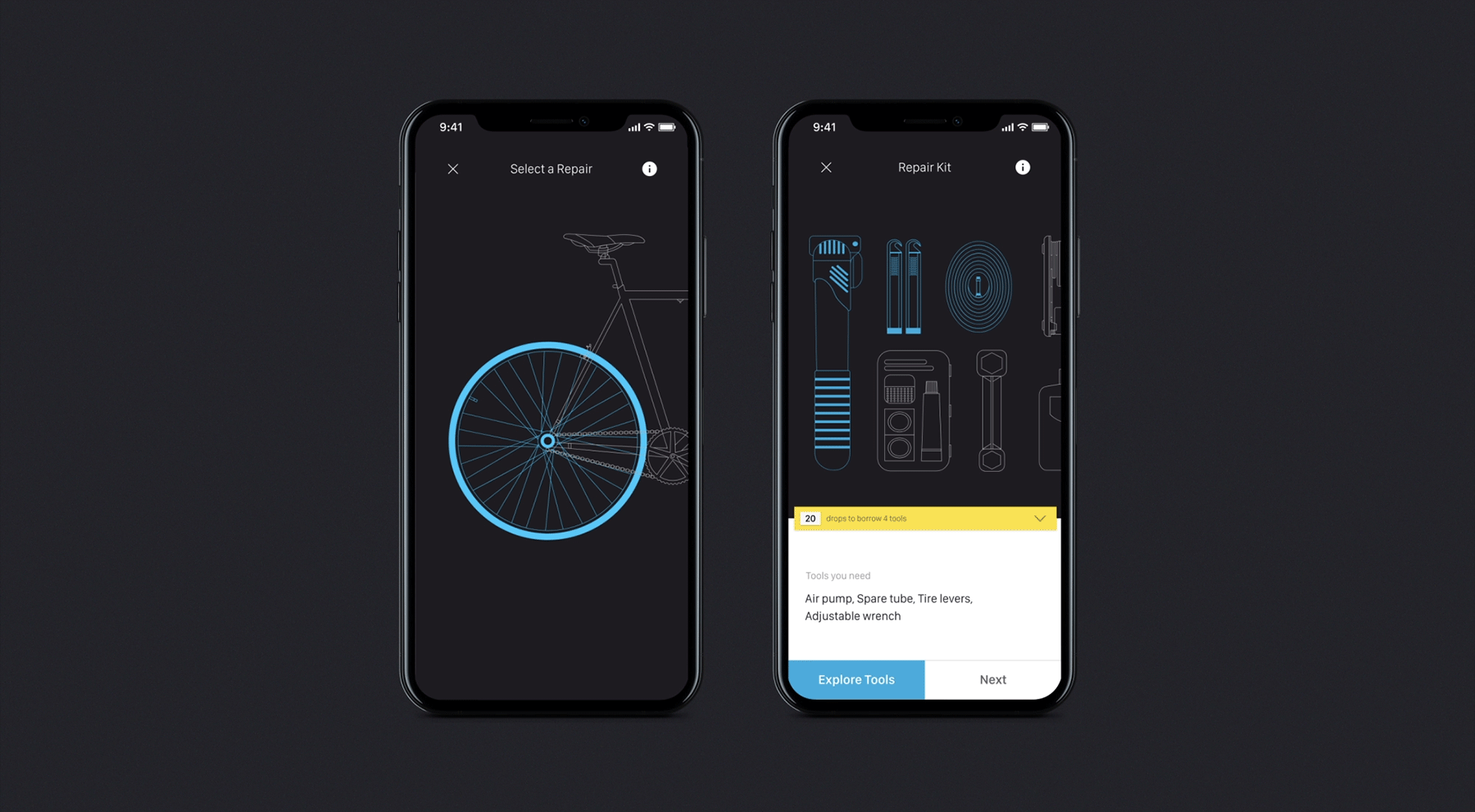 Select a repair & repair Kit
User can find the symptoms of bike repair & maintenance easily on Select a Repair. Once they select the certain symptom, Repair Kit will show what tools user needs before they start to fix. User can have the option to explore other users who have the same tools.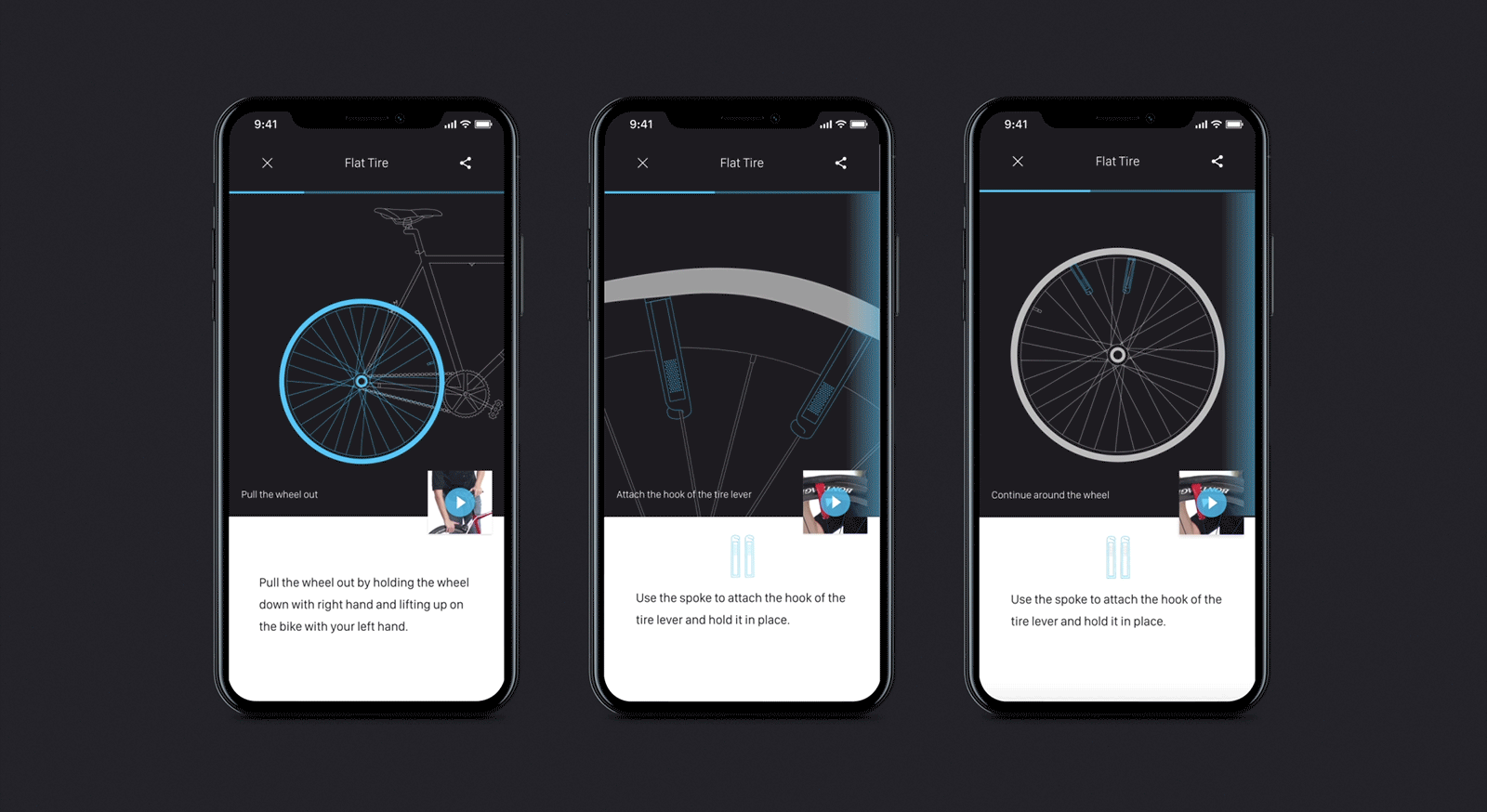 Repair & maintenance manual
Once user selected the symptom of flat tire on the previous screen, repair or maintenance manuals will be shown up step by step. User will be guided by easy, fast and intuitive graphics. User can watch video instruction for better understanding.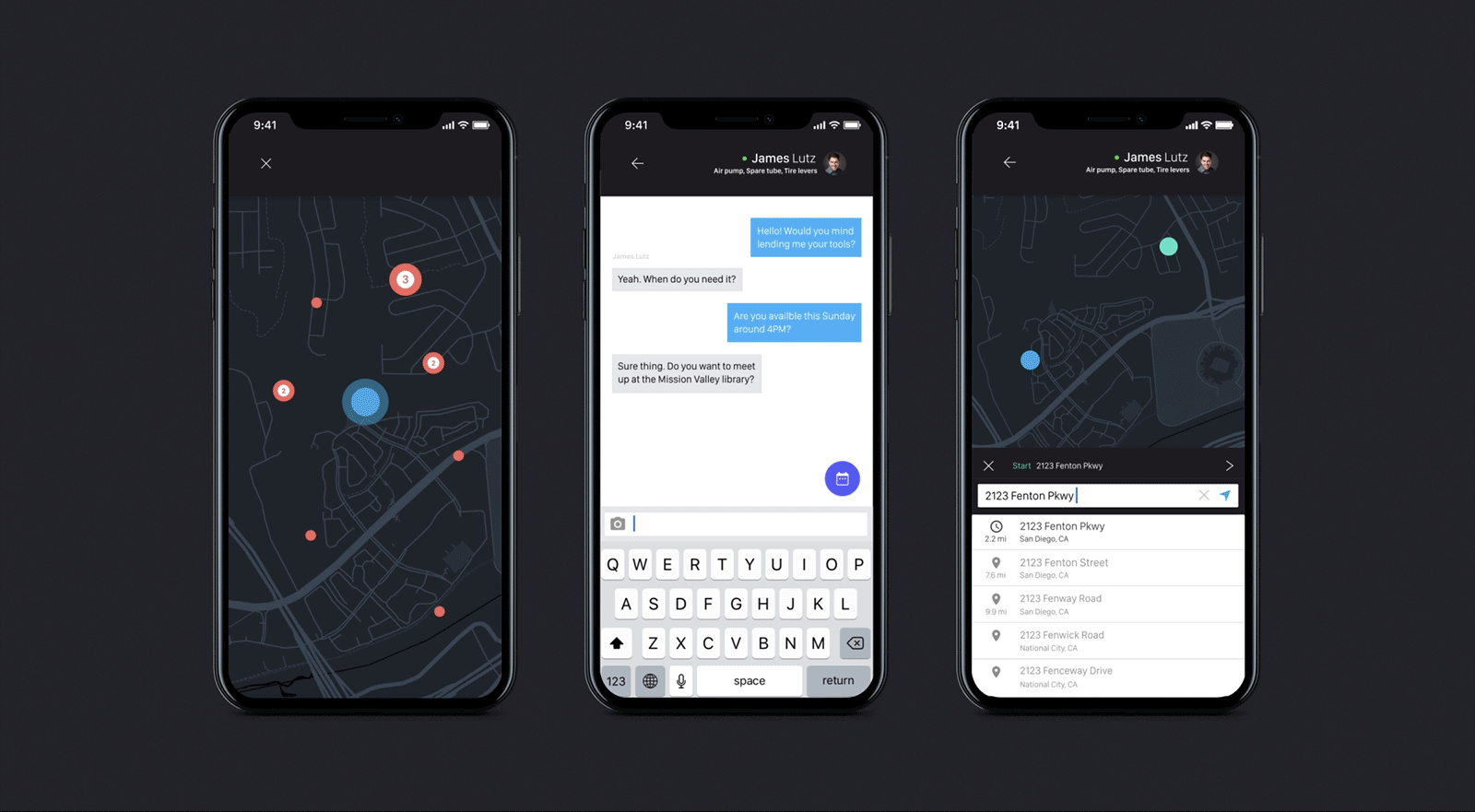 User can connect to other users to either borrow or lend bike tools, if they don't prepare.They can find out people have the tools, have the conversation to set up a schedule for meeting. Real-time scheduling on chat screen will accelerate eco system of social sharing tools.​​​​​​​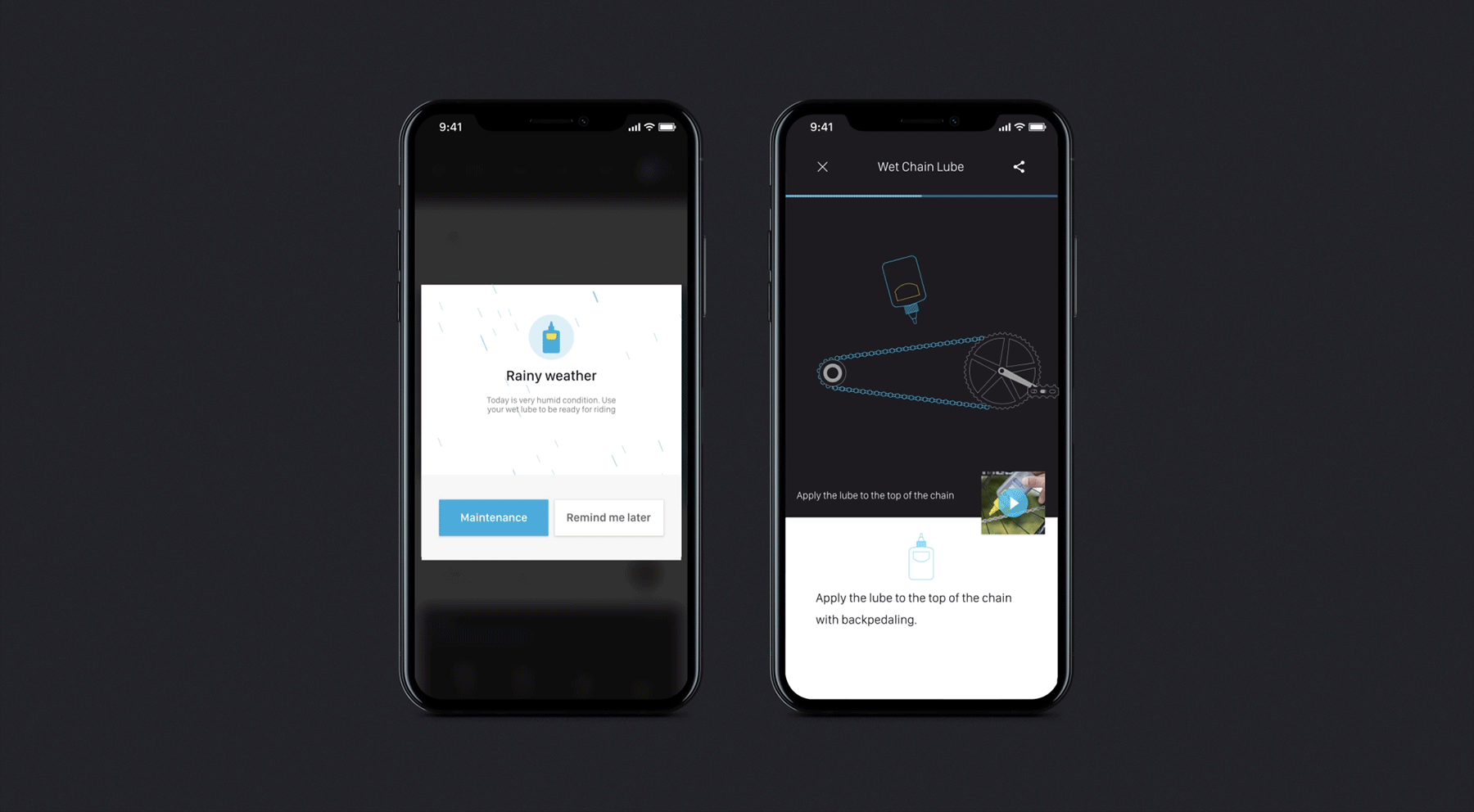 Maintenance modal will show up depends on routine maintenance and weather conditions. User can know what specific maintenance they need for their registered bikes.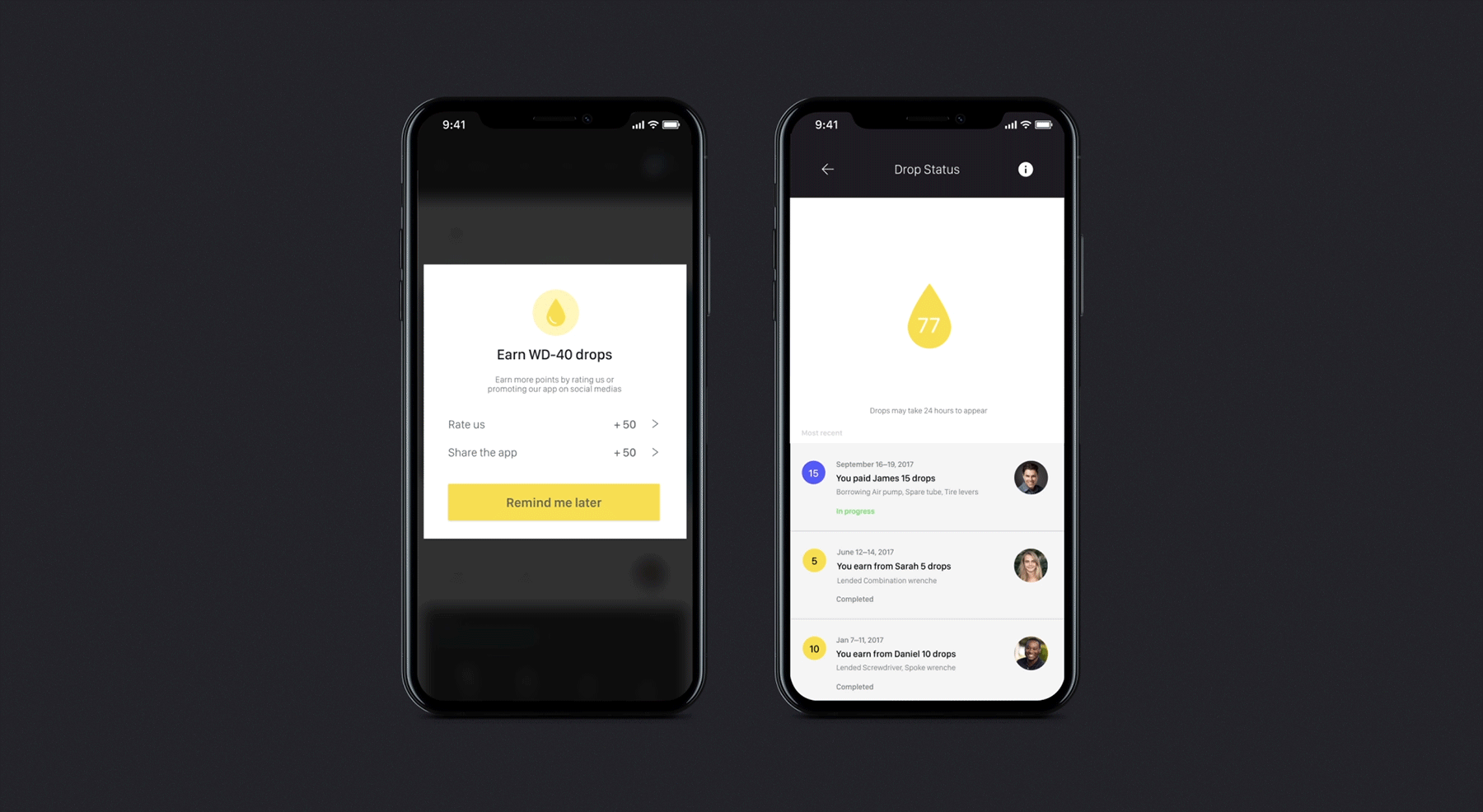 Drop is the point to be used for either lending or borrowing the bike tools on social sharing service. 
User can earn Drops by sharing the app on social medias, lending the tools to other users.