My Alexa is a suggestion of new concept for Amazon Alexa app. This project has new visual and empathic interface. My Alexa will empower user's daily life with inspiration, motivation, insight and empathy. The whole concept was inspired by Maslow's Hierarchy of Needs.

We Think Too Much And Feel Too Little
Internet (Social Media) has been making peoples' lives much better, but it also made the further distance and closed mindset among people at the same time. "We think too much and feel too little." spoken by a great man, Charlie Chaplin gave me the chance to think about our realities that we are facing now. Advanced technology is not always bringing happiness to people. Eventually, I started thinking how I can make a meaningful product to inspire and motivate the users, and bring them closer together by using the latest technology, which is Alexa voice assistant. I ended up deciding to create a new concept of Alexa app to help people.

1. Alexa answers queries about 20% less correctly in all categories than the competitor, which is Google Home. 
According to loupventures research, Alexa answered 64% of queries correctly compared to recent tests of Google Home at 81%, Siri at 52%, and Cortana at 57%. Even thought it leads the AI speaker market share, it sill need to improve the AI assistant performance which is its original purpose. 
2. Internet isolates people. 
According to Norman Nie, one of the principal investigators in the Stanford Institute for the Quantitative Study of Society (SIQSS) contends that "the Internet could be the ultimate isolating technology," reducing participation in communities. The SIQSS study shows that "the more hours people use the Internet (social media) , the less time they spend with real human beings… [such use is] at the expense of time people spend on the phone gabbing with family and friends or having a conversation with people around them." Internet causes people to remain "home alone and anonymous"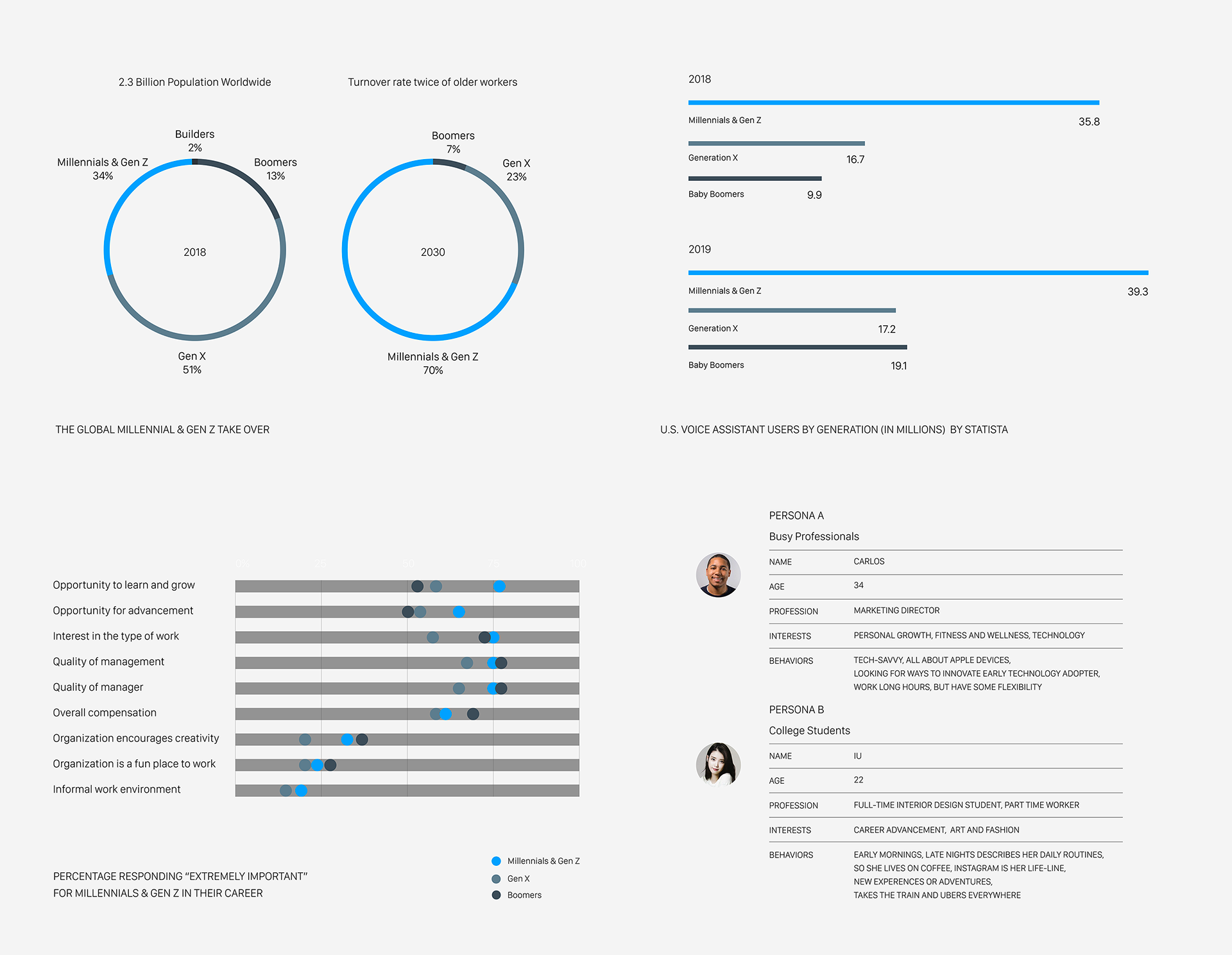 1. Millennials are the most voice assistant users
Millennials and Gen Z will be the most voice assistant users. They are also tech-savvy generation. My Alexa project is aiming this target audiences.
2. Millennials & Gen Z fundamentally think about their growth opportunity
According

to 

Brandon Rigoni,

 the Associate Director for Selection and Development at Gallup Research, at their current stage in life, Millennials and Gen Z fundamentally think about their role as a stepping stone and a growth opportunity. They place a greater emphasis on opportunities to learn and grow and opportunities for advancement. It's important to understand what motivates them, what doesn't, and the delicate balance between the two. 
After the user research, I created two each different personas called the busy professionals and college students. It's hard to keep being motivated and educated for their personal growth because of their work and school. My Alexa will design their personal growth.
User Journey was based on the information gained from the persona and the task analysis. It helps I can understand the flow and functionality the system will require for the better user-centered design.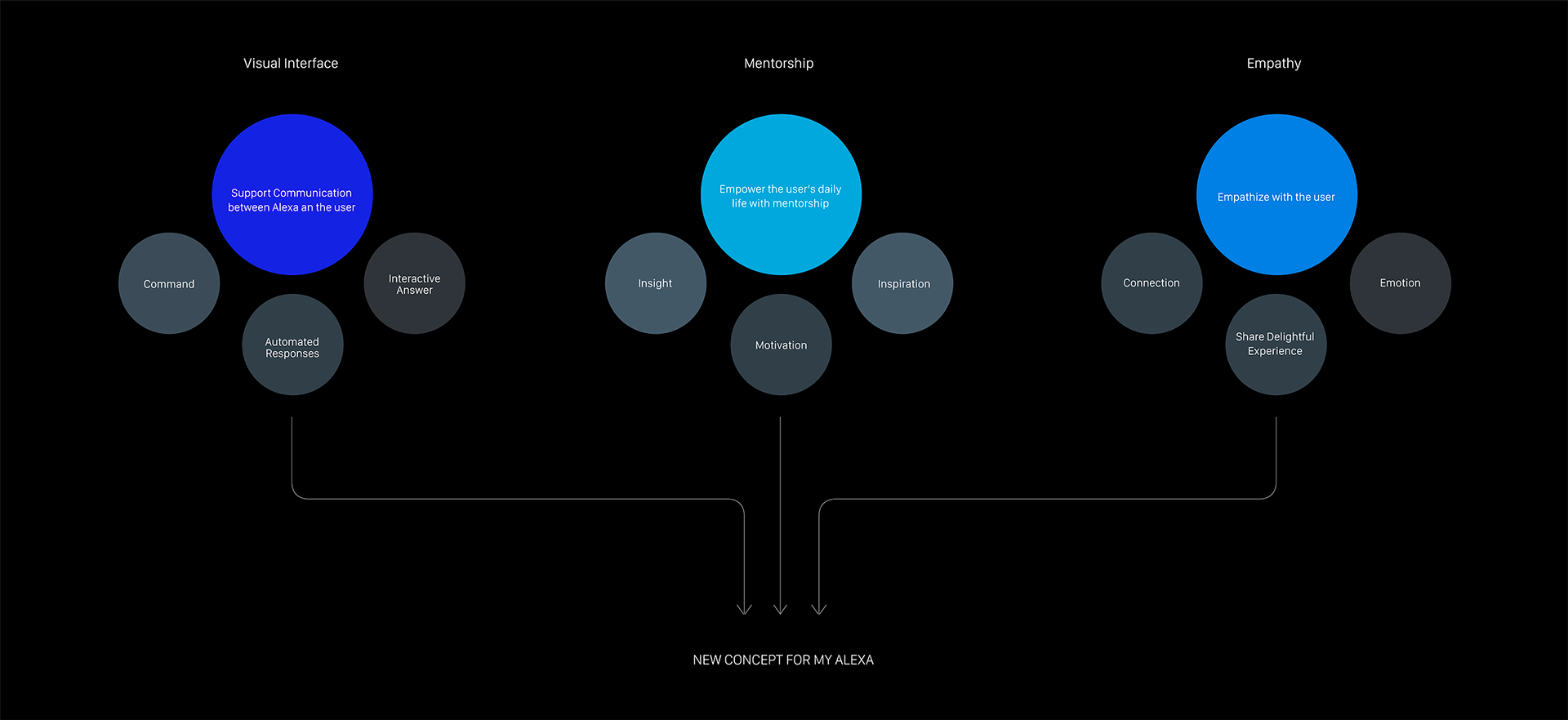 New Concept for My Alexa App
New concept has the 3 big features: Visual Interface, Mentor, and Empathy.
The new app should support Alexa voice assistant by adding its visual interface and it will improve the voice assistant performance. It also should give the mentorship to our target audiences, which is millennial by giving them the daily quality contents, such as inspiration, motivation, & insight. Lastly, it should understand and empathize with the users to give them special emotional moment. 

Maslow's Pyramid & Self-Actualization 
In Maslow's Pyramid, self-actualization on the top level inspired me a lot while I'm working on this project. I think self-actualization is really important for young people. I thought it would be great if we empower the user's daily lives with inspiration and motivation to keep them to the right path of their successful lives. According to Maslow's Hierarchy of Needs, we can't achieve the higher goal of a life without the basic steps, such as food and safety. This fundamental ideas of this My Alexa project are as same as Maslow's Pyramid. Without the combination of each important factors such as visual and empathic interface, inspiration & motivation, it wouldn't be the good product.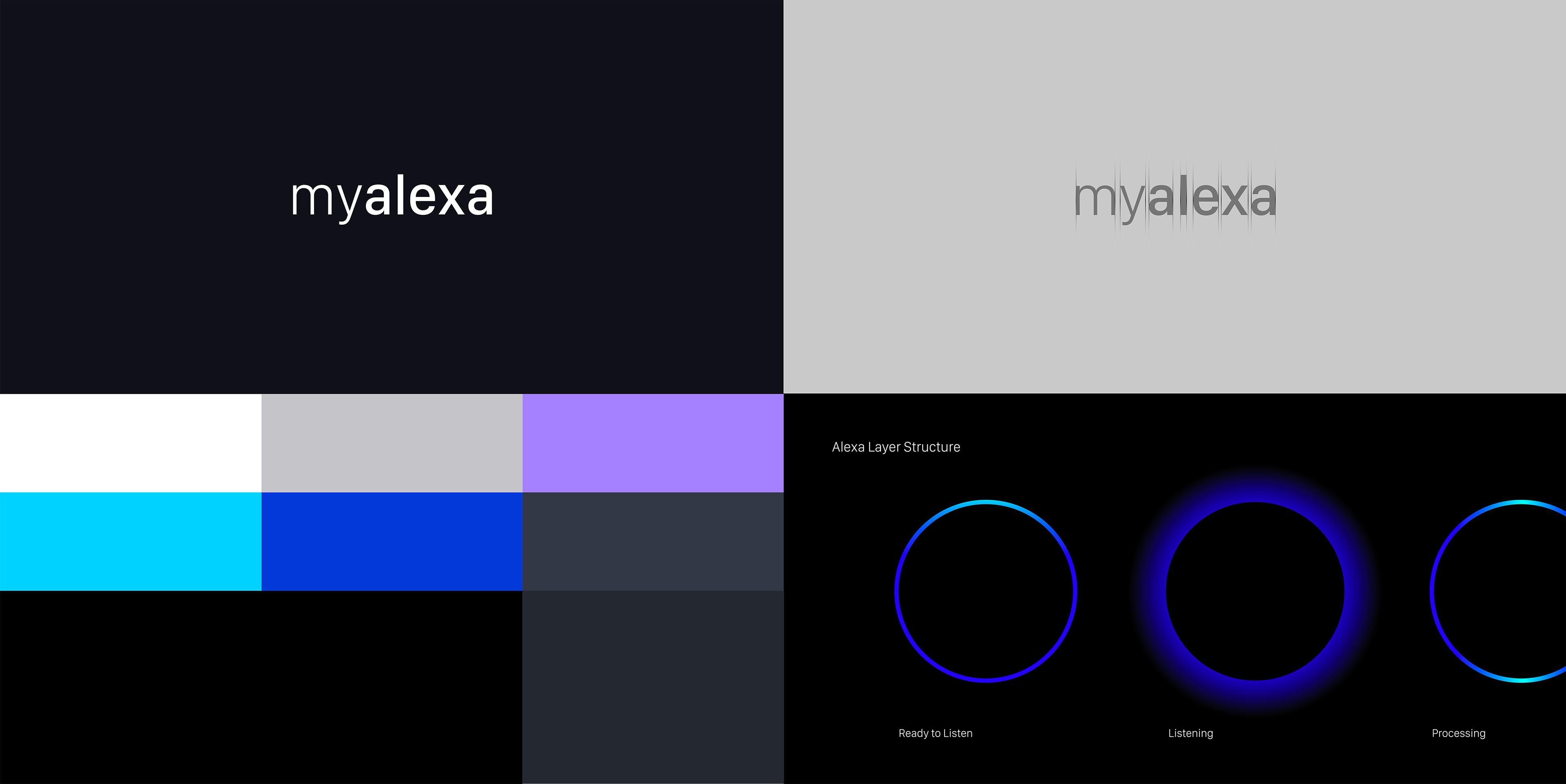 My Alexa has the similar layer structure and color pallets with the current Amazon Alexa app & Echo Dot.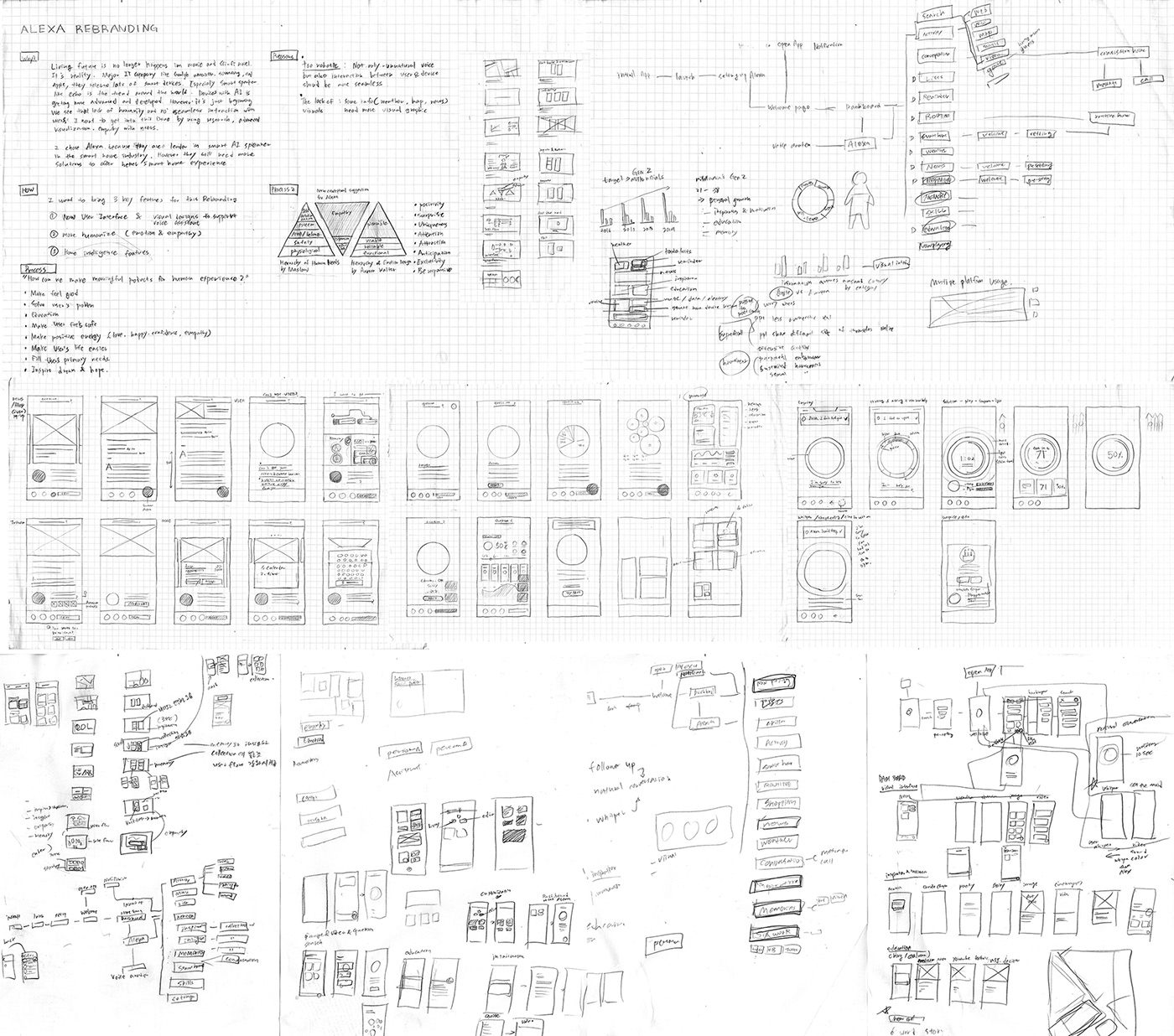 Sketches for Flow and Layouts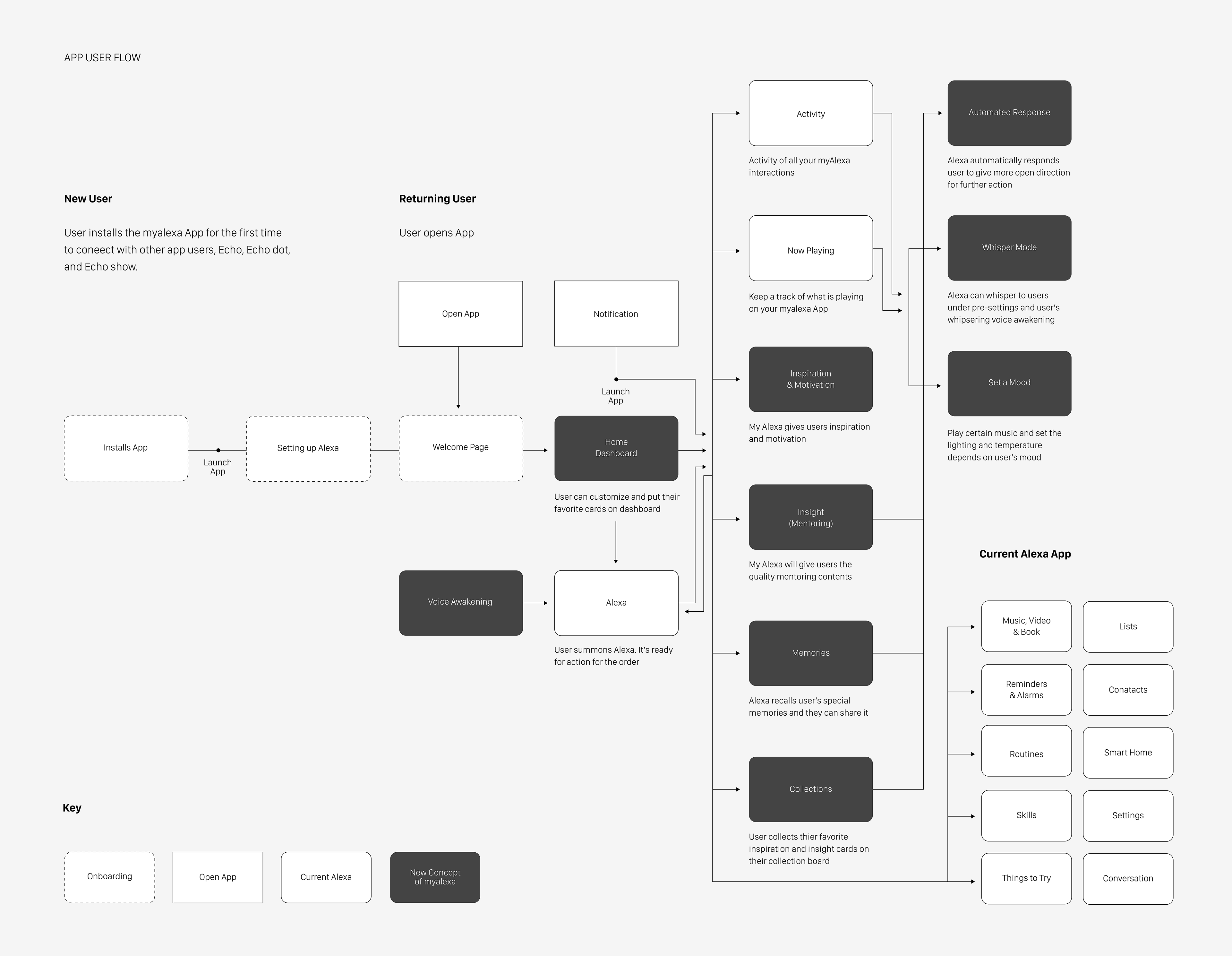 The user, a young pioneer in this context, should be exposed the quality of contents for insight, inspiration & motivation, seamlessly get involved in the next action of each page with Alexa's automated response. As this can happen in any random order, the app's flow has to be instinctive, almost automatic, so the user can focus on the core purpose of the app: empathic interaction, insight, inspiration & motivation
User can customize their favorite cards on the dashboard. Mini Alexa button at the bottom helps the users easily summon Alexa. This button stays all different pages.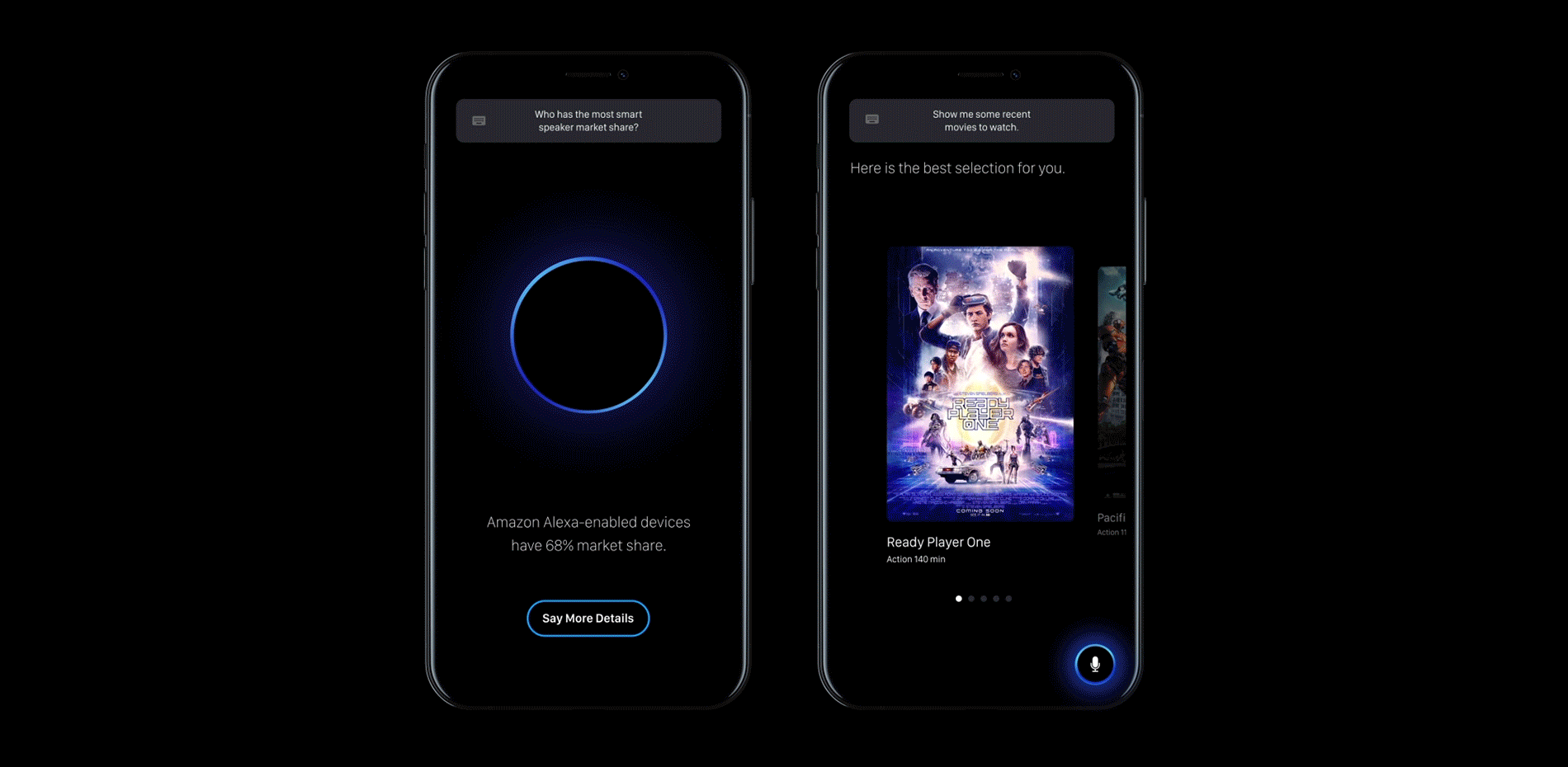 I think there are still many frictions between the user and Alexa voice assistant. Intuitive interface design supporting the voice assistant make seamless user flow and help people understand information visually better and easier. New communication interface between the user and Alexa guide users to get the answer correctly. My Alexa automatically responds user to give more open direction for further action.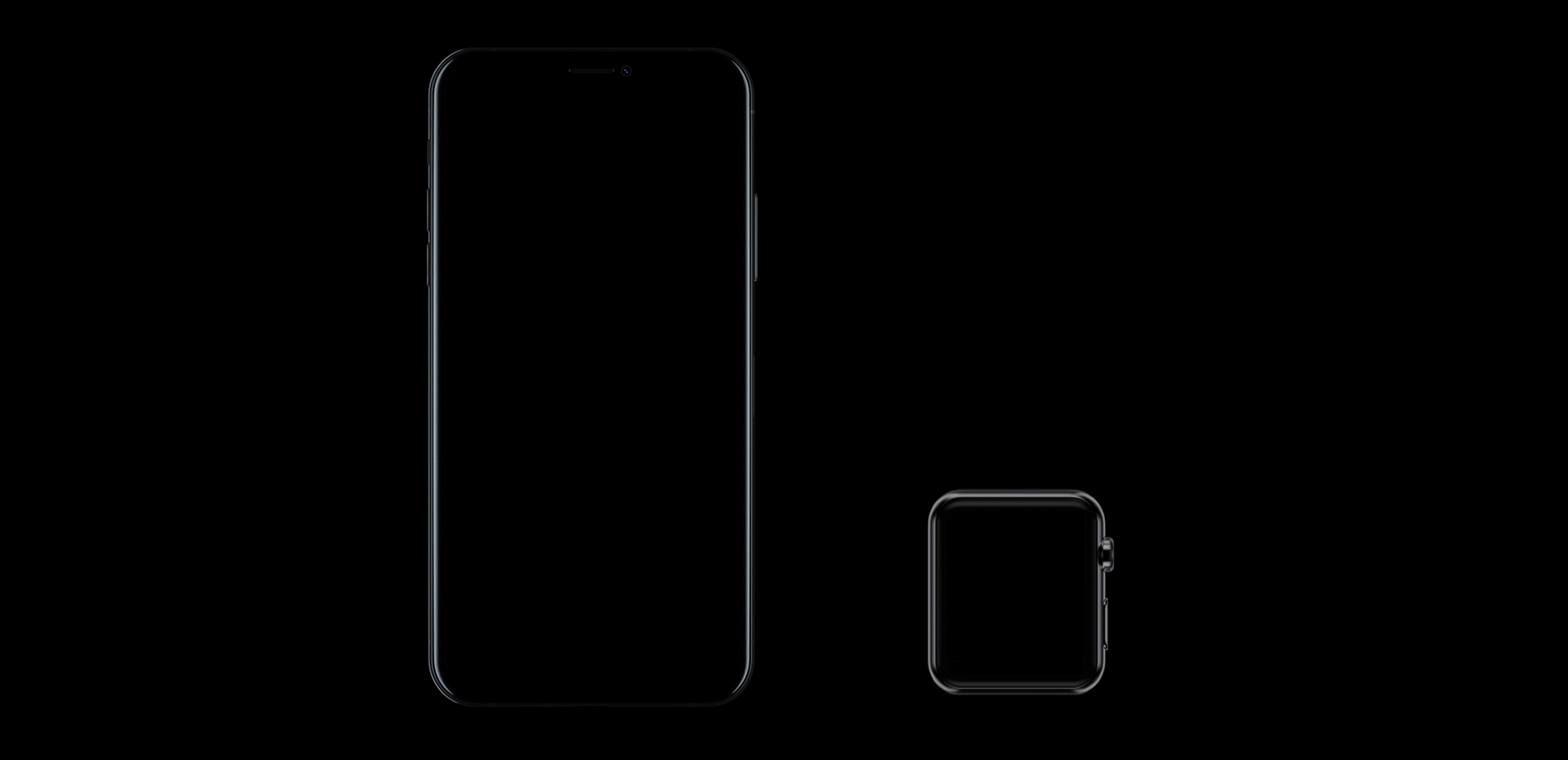 MyAlexa can respond with whispering voice when you summon her with a quiet voice. In private or public place, whisper function play a big role.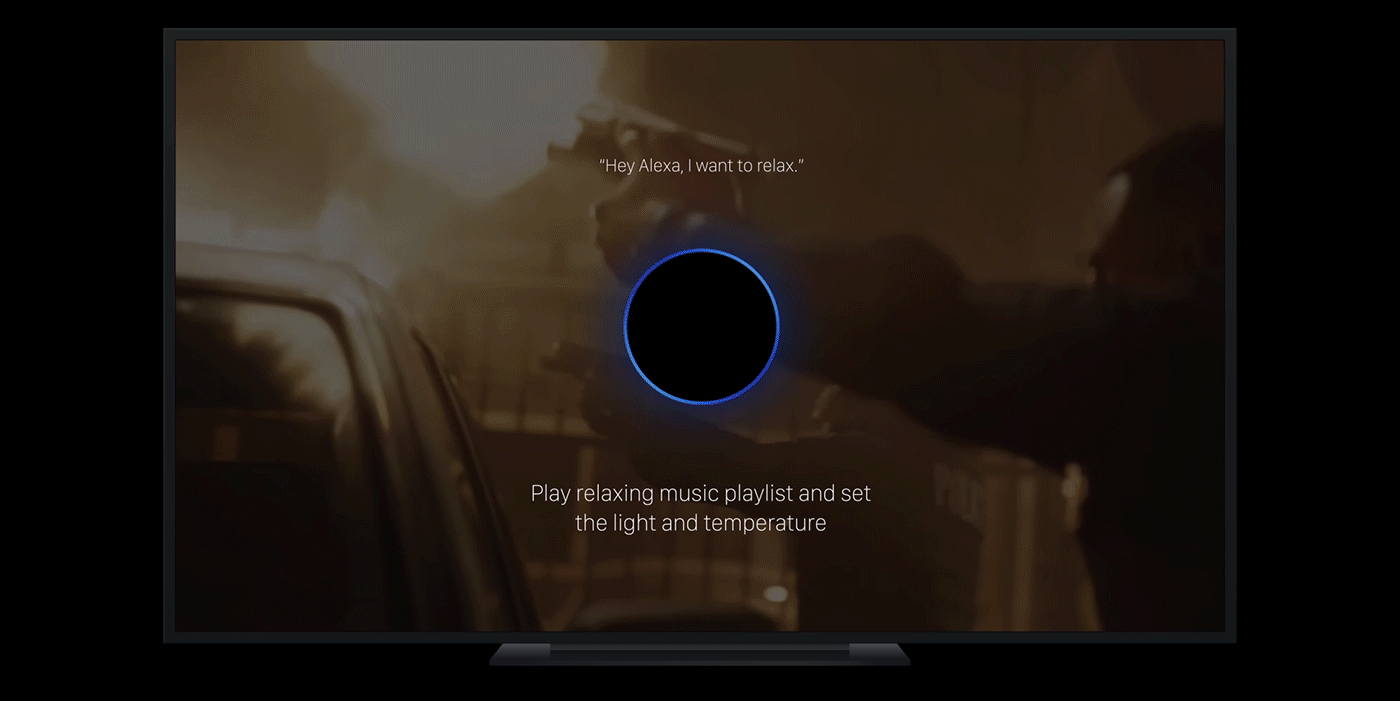 Interact in Human Emotion
My Alexa can respond to user emotion. It connects with home smart devices, such as Nest Thermostat, Philips Hue, or Smart plugs, and controls the color, lighting dimmer, temperature, and music playlists depends on user's current feeling to make their comfortable environment.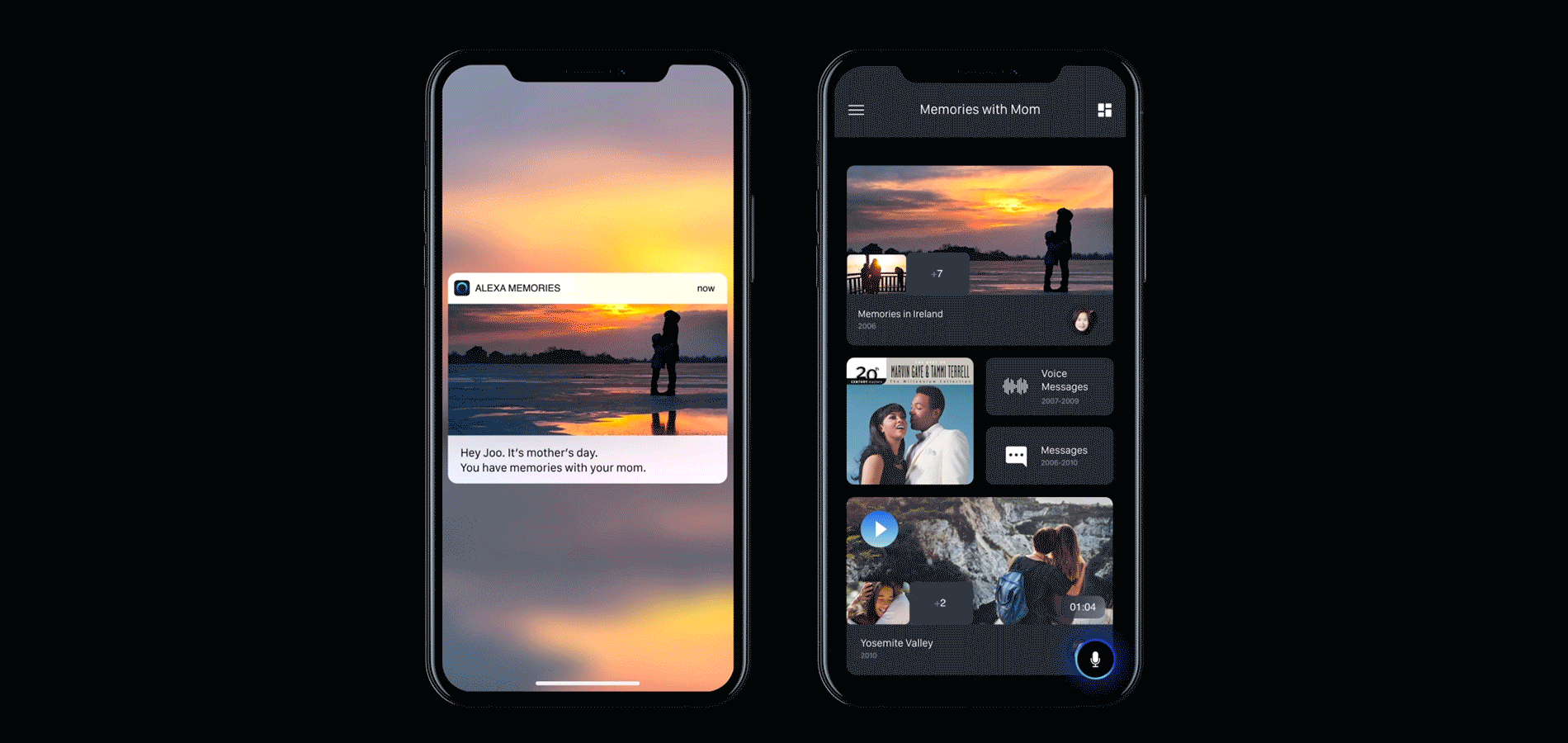 Sometimes, we reminisce about the good old days of childhood. It would be very precious and surprising, if the special memories are sent to users without any pre-setting. Those memories can be any mediums, such as photos, songs, videos, or even voice messages. Alexa recalls your happy memories and you can share this with special people in your life.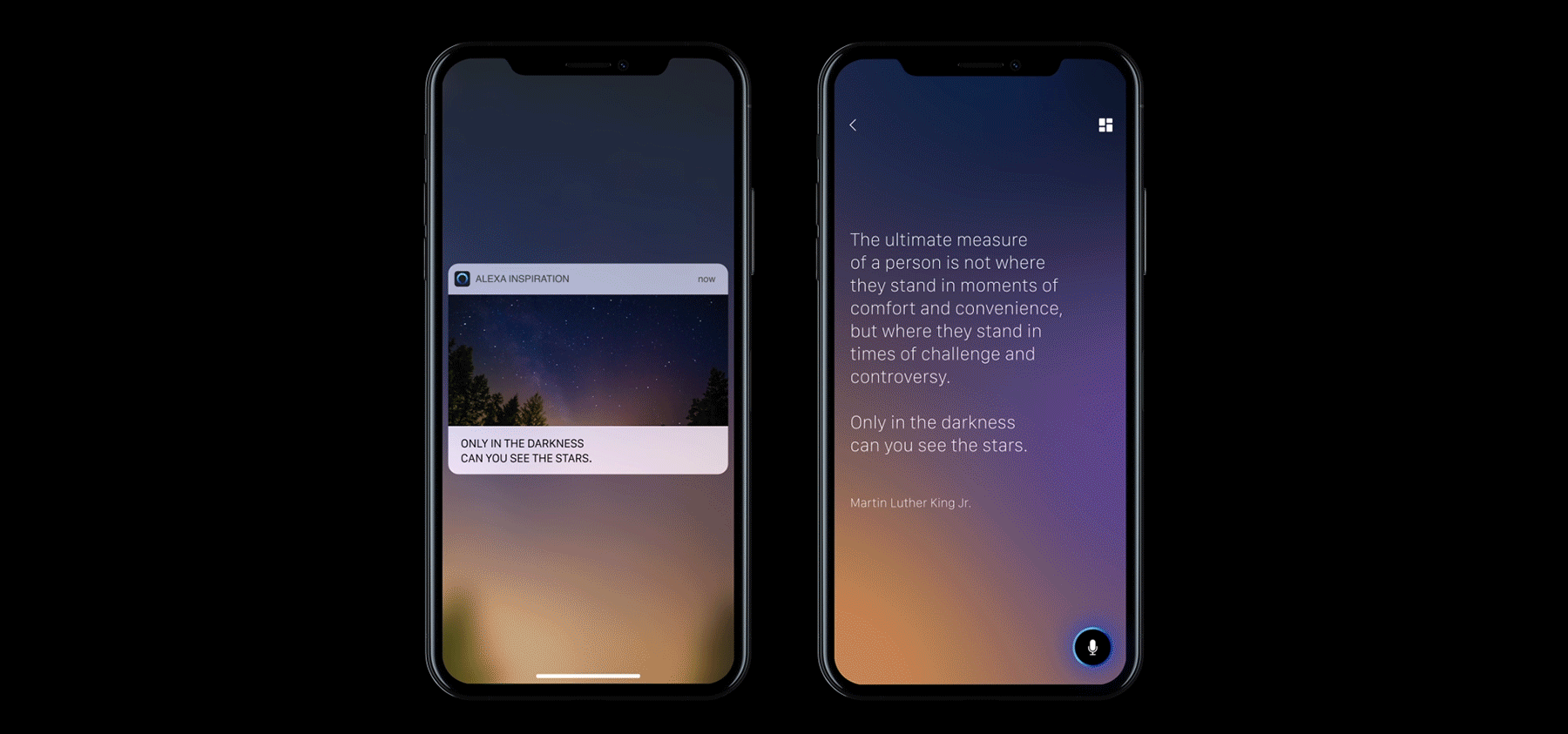 Alexa gives users inspiration and motivation. It will get data from the user profile or interaction pattern, and give back users good things, such as quotes, poetries, or stories depends on the relevant subjects of user's interest. It will make the users being motivated and inspired every day.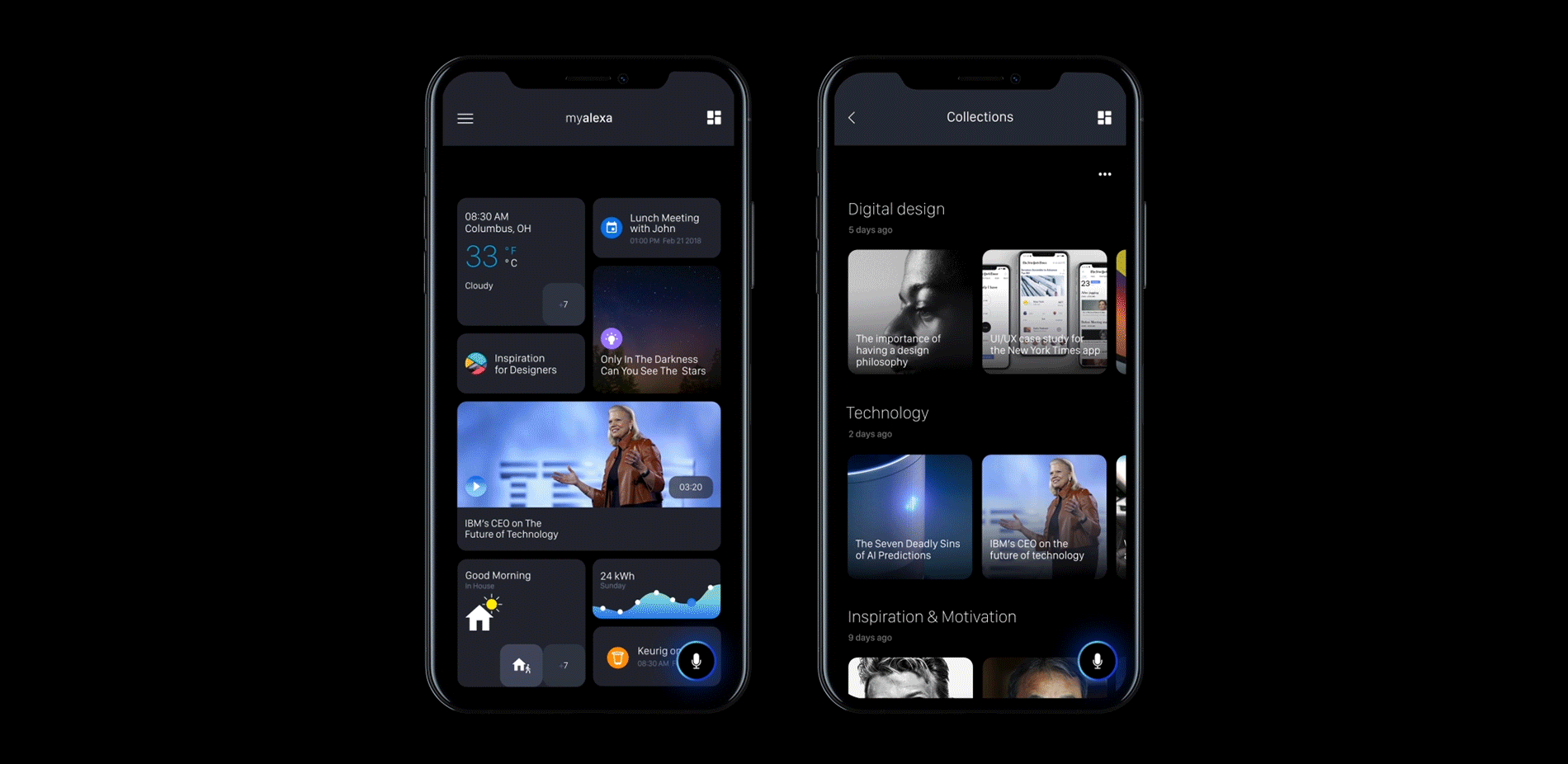 Millennials need the mentor to have the better insight for their future. They need a process for the informal transmission of knowledge, social capital, and the psychosocial support perceived by the recipient as relevant to work, career, or professional development. They want a roadmap to success, and they expect their companies or schools to provide it. However, it's not easy to find out the reliable mentors around them. My Alexa will give users the insightful contents which equal mentorship every day, and they can collect the contents on their collections board.