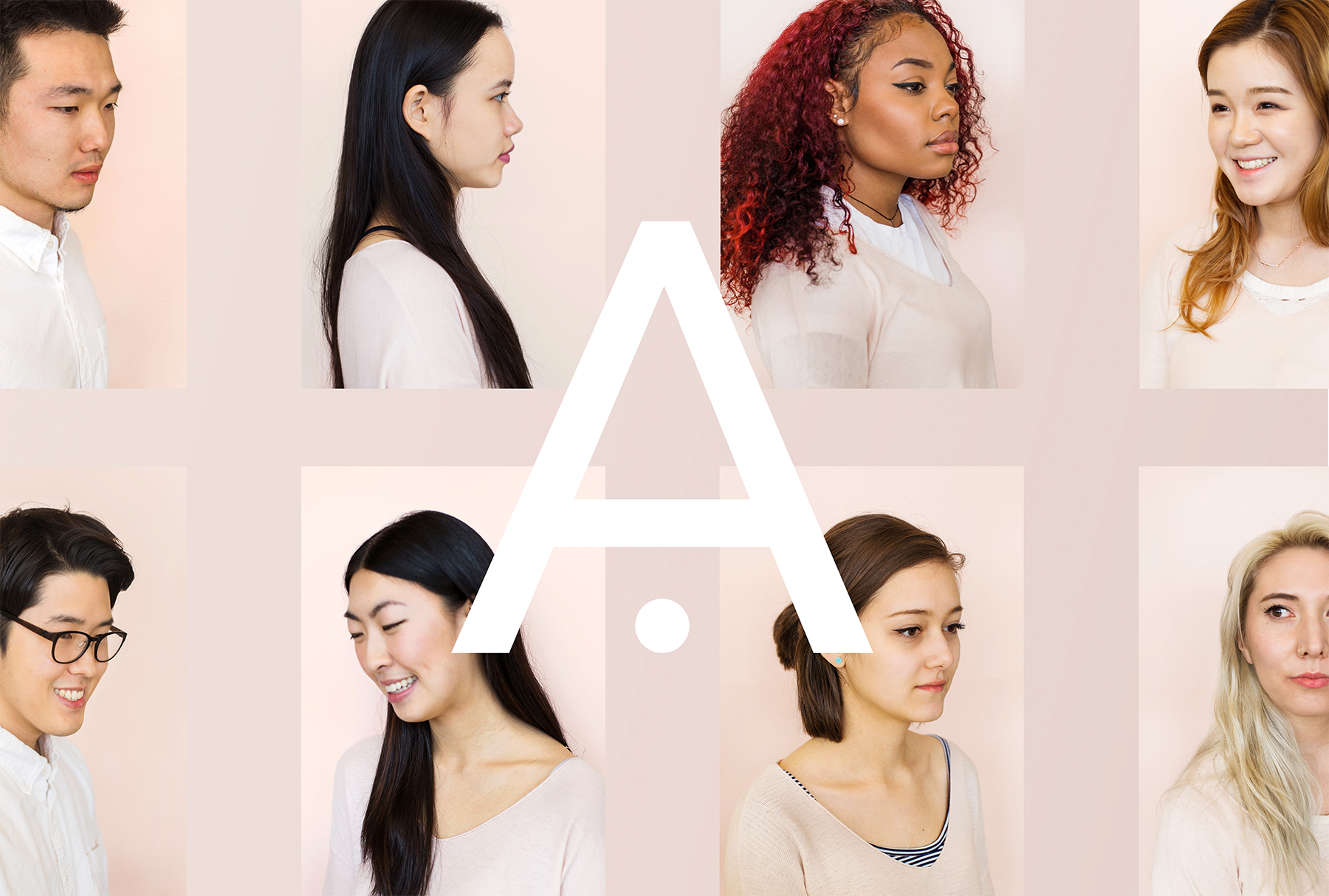 Role :
 Design Concept / UI/UX Design / User Research / Branding / Art Direction / Photography
Tools Used :
Sketch App / Adobe Creative Cloud
​​​​​​​
Aveda International matches international clients to the best stylists who know their particular hair types and hair style trends of each different countries. New brand identity and its digital marketing strategy reaches directly to the needs of their potential clients from all parts of the world. Its new digital tactic: My Story helps share personal stories in the U.S. between the stylists and their international clients.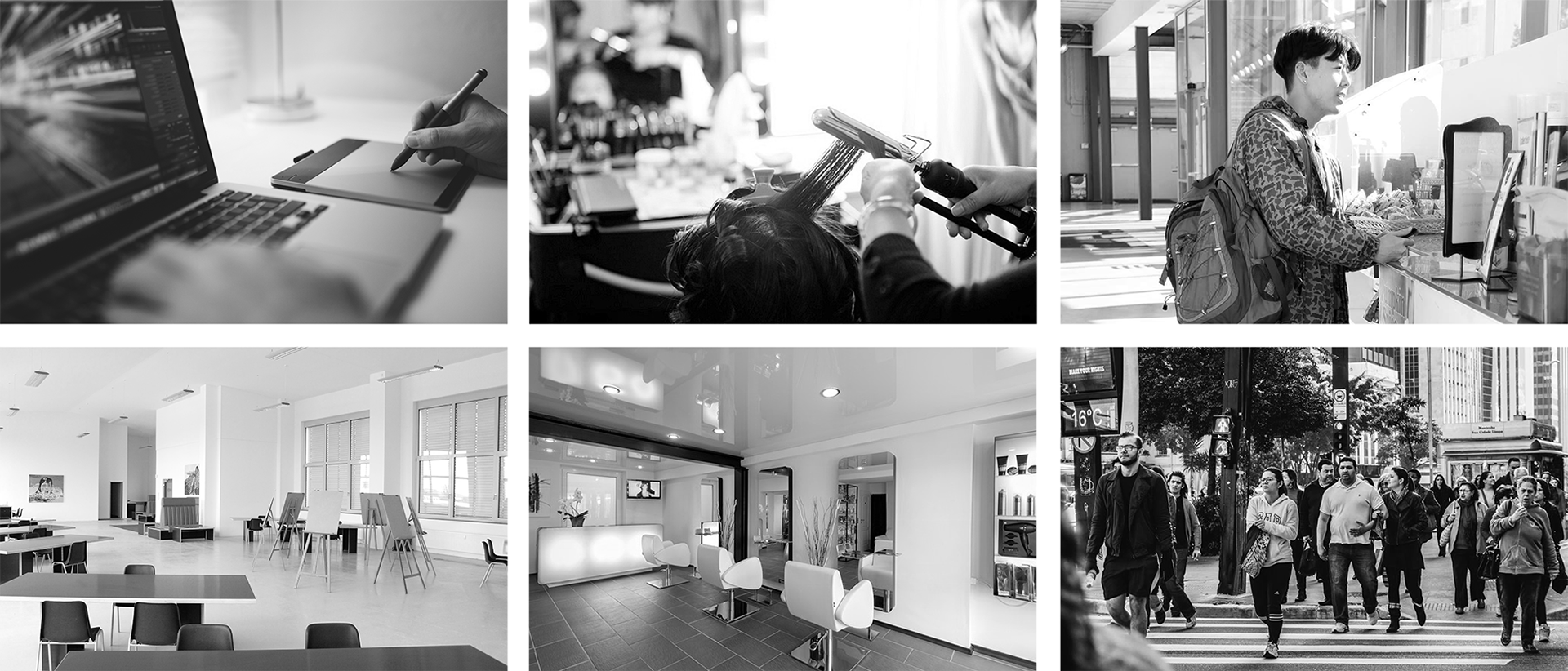 Personal Experience
This project is based on my personal experience in the U.S. I like to stye my hair. However, I never spoke English before. It's my first time to live abroad. It was very difficult to find the appropriate hair service for my particular hair texture and different hairstyle preference in the local hair salons and barbershop. I knew many international students struggling with the same issue.
I wanted to bring the awareness to the community about this little big issue. And also, I saw the market for the business franchise that can across the United States, especially the midwest area. I ended up creating a conceptual product design which is Aveda international.
Our International students come from all over the world. This means they have diverse hair textures and hairstyles. However, they struggle to find the proper hairstylists who know their particular hair textures, different hairstyle preference from each different countries. International clients also get intimidated by the new hair service experience because of language limitation, different cultural manner, new environment, and new hairstylists. These make the international user access the local hair salons more difficult.

Aveda's current brand recognition in digital is no.7 among top 10 hair care brands. Aveda has the huge market power in the hair care & service industry. However, they still need to improve their brand image in the digital market to increase potential clients to appeal to millennials and international users.


Digital platform & International clients | Catching Two Birds with One Stone
Aveda's new brand strategy combined with the international theme and digital tactics by focusing on their potential clients around the world and the emotional communication in digital platform. This project will meets the needs of international clients and the brand recognition in digital market.

Design Process & Key Features
Issue & Demand / Idea Development / Inspiration Board, Competitors Analysis & Sketching Out Concept / Core Ideas / Branding, Wire Frames & User Interface Design / Development & Prototyping / Goal
• Recommending professional and proper stylists and colorists to international clients
• My Story to create a personal connection between the stylists and international clients
• Navigation and set up a schedule
• Offering Translation and two different languages: user's first language and English
• 360° virtual view of portraits and diverse hair styles on digital lookbook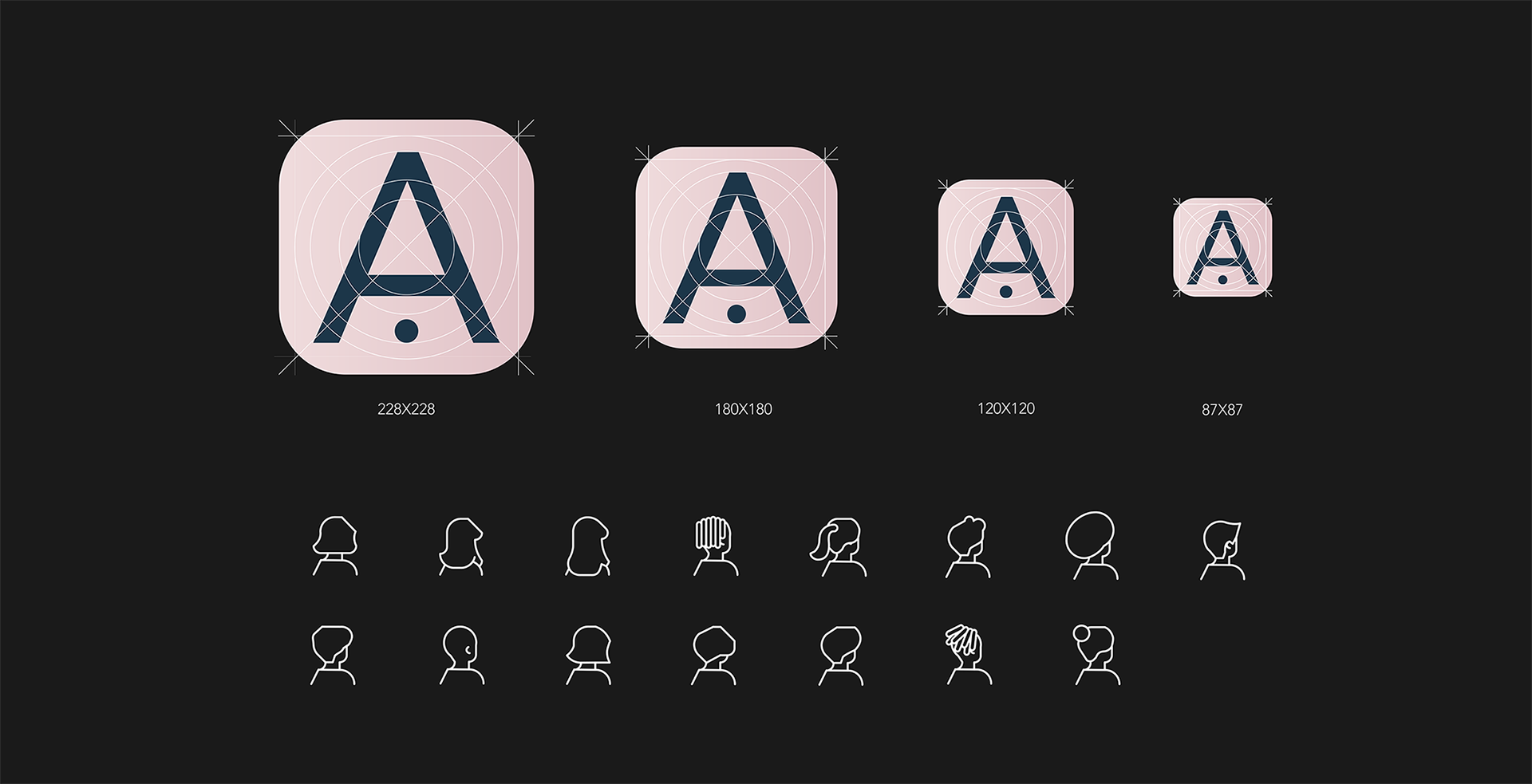 A diverse set of hair type to represent the specific needs of our international clients.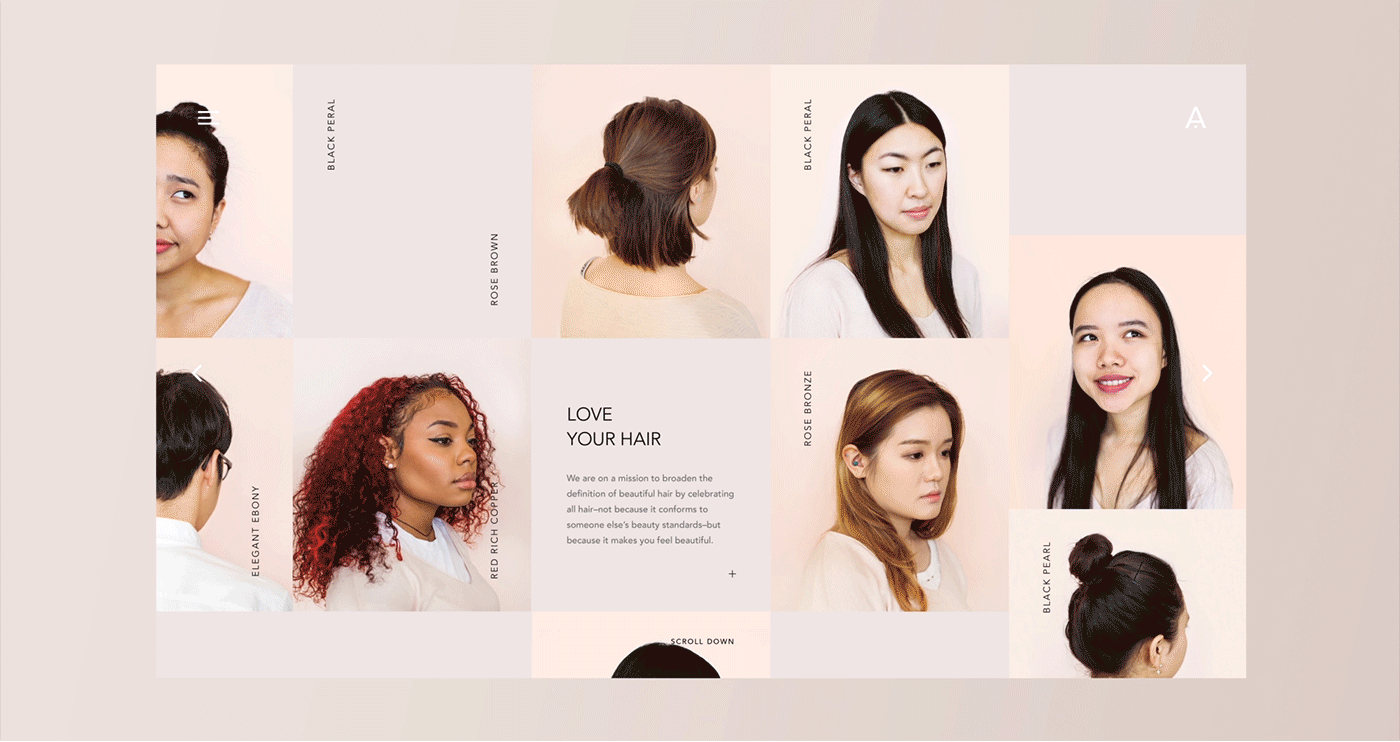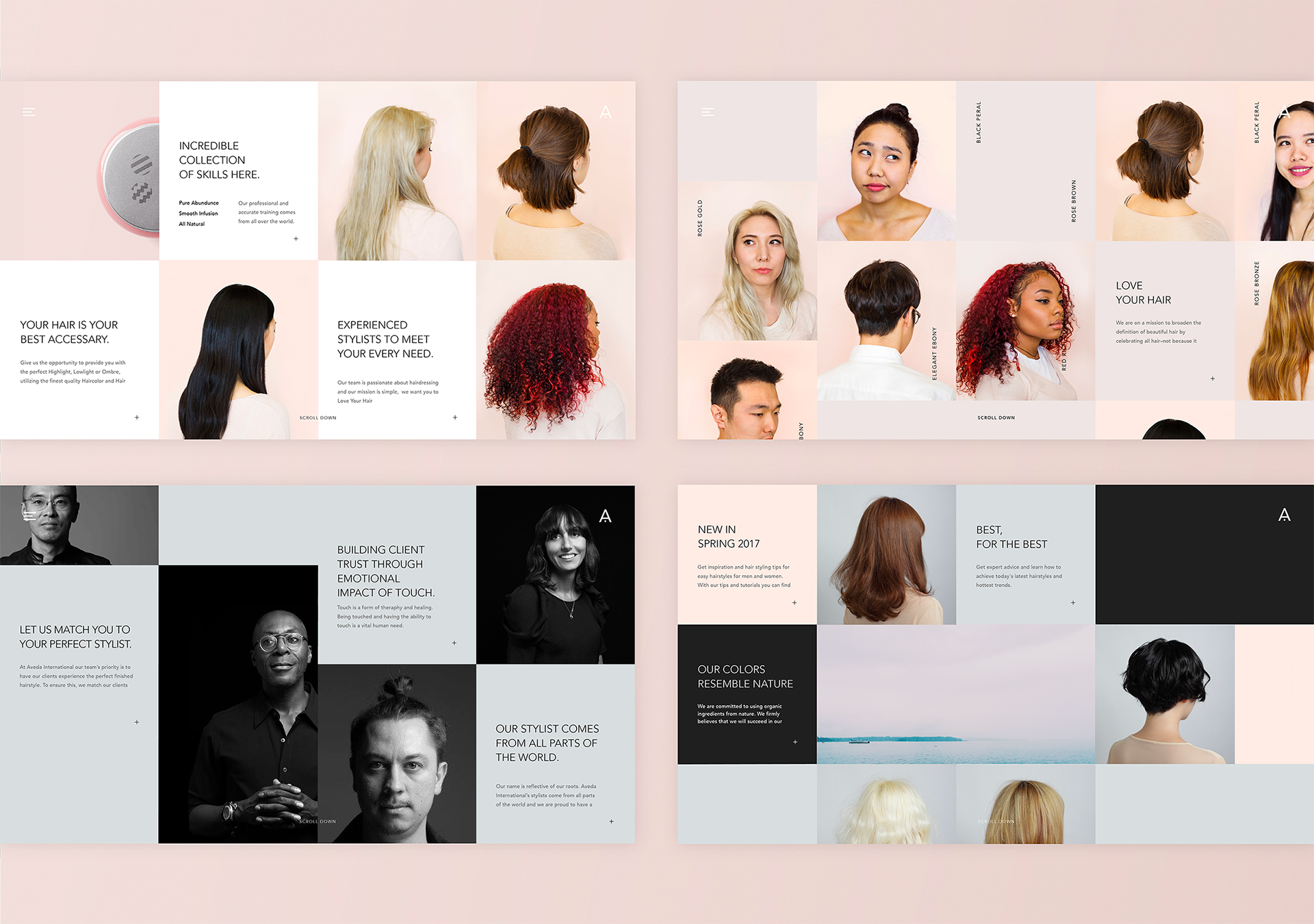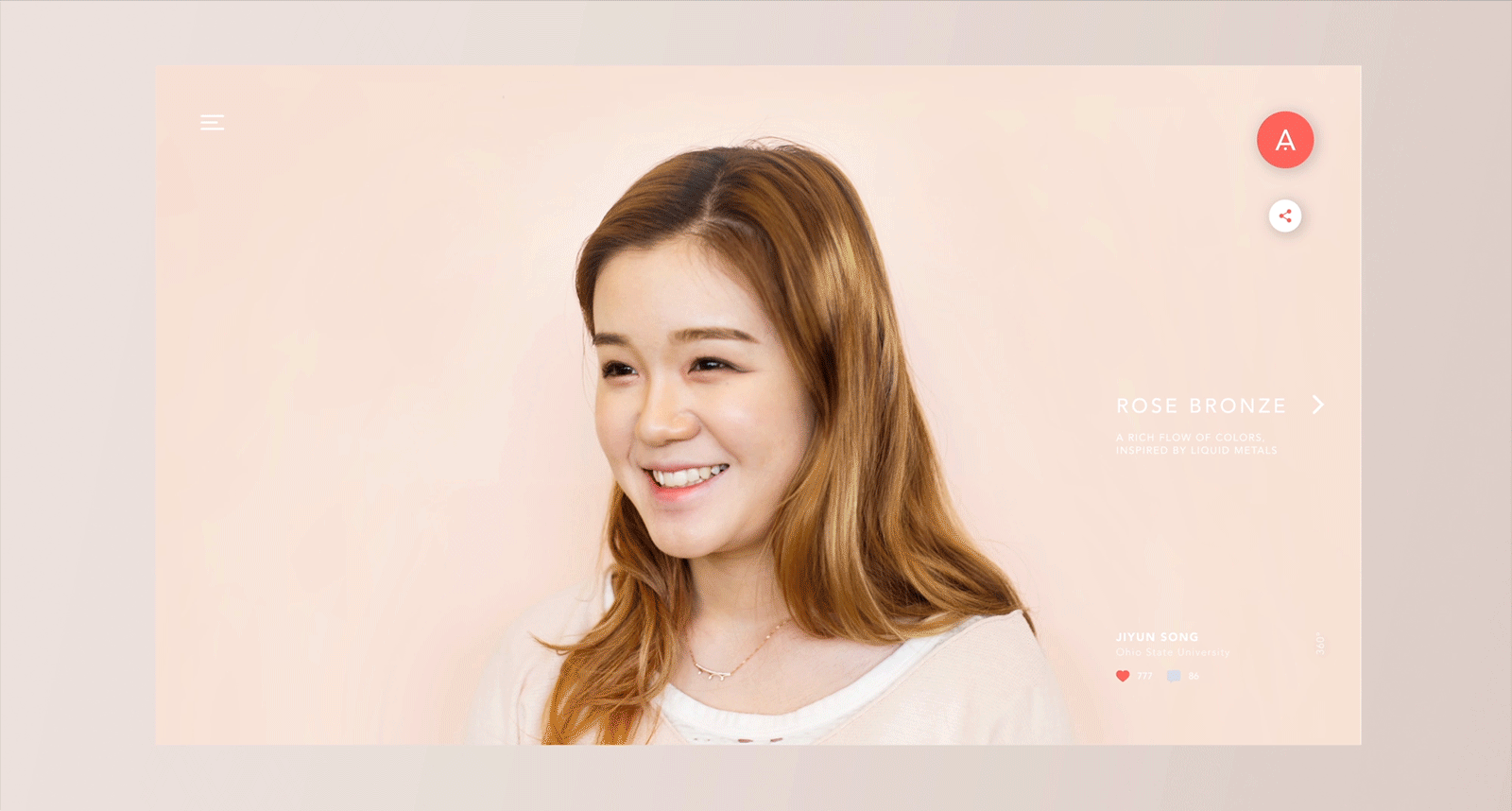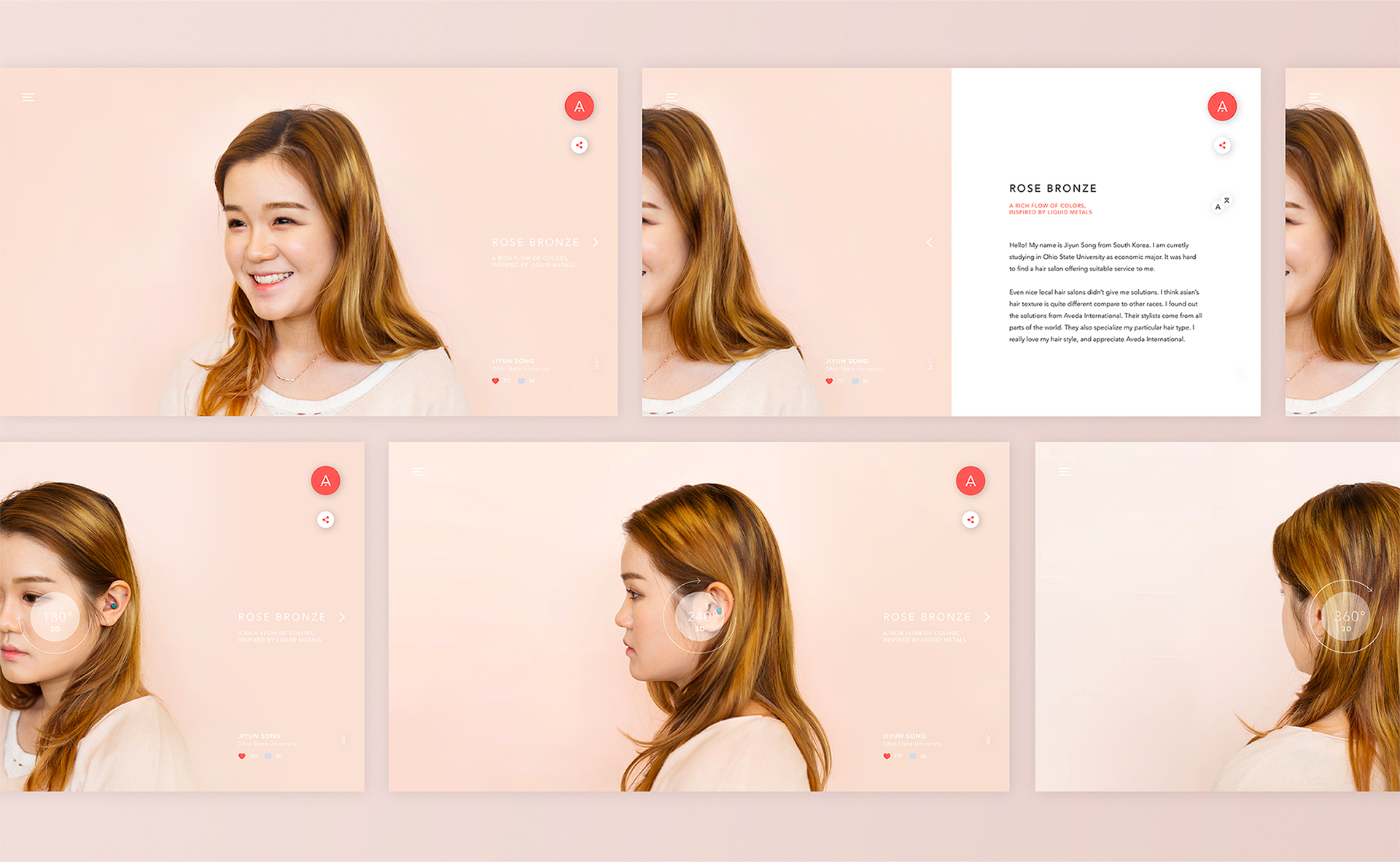 Website | More Than Words. Imagery Elements Transcend Texts.
Aesthetic photography, the combination of basic structures base grid system, clear messages start to come to life with warm, emotional, and friendly tones for international target audiences. New website also has the 360° view of hair models.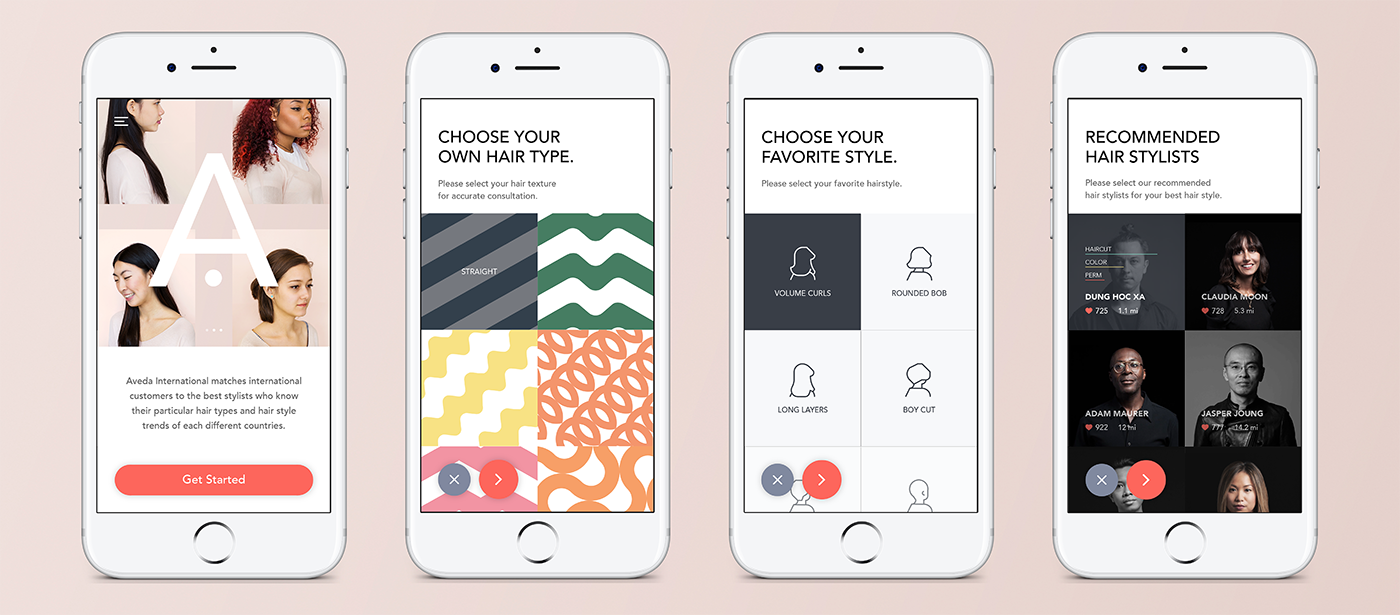 Choose Your Hair Type | Mobile App
Many International clients who are not fluent in English, struggle to communicate with their stylists, These minimal icons and intuitive layouts are a good way to indicate where to go for the next screen. Depending on clients' own hair types and the service they selected, Aveda's recommended stylists show up on the screen to offer accurate and appropriate services to the clients.
My Story | Emotional Connections in a Digital Era
Once the users select the hair stylist they prefer, My Story will appear on the screen. Users can read their stylist's story connecting them with what the stylist has conquered and accomplished in the U.S. Users will be touched in this emotional moment through their stylists' story. This gives them and their stylists a strong and emotional connection.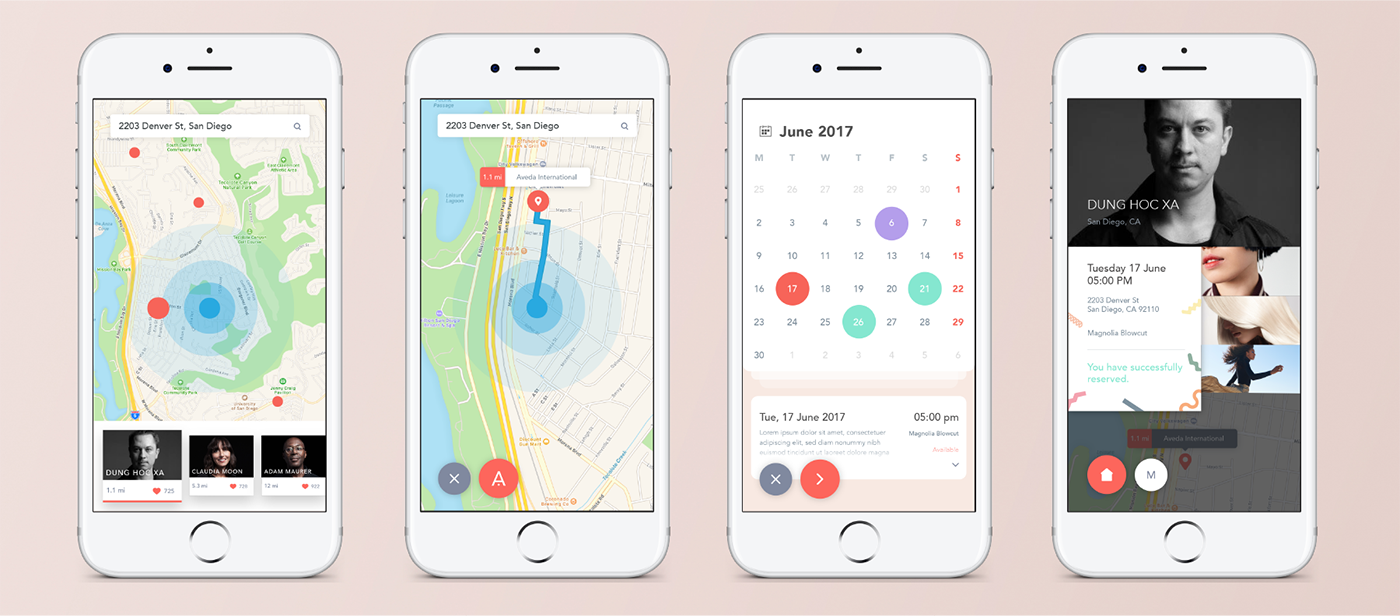 Users can find where their stylist is located, and easily make the reservation. 
All hair models come from different parts of the world. On digital lookbook, it has the models' own stories to share. My Story is a good way to keep up with the customers and share their special moments. It also has the feature of translation, 2 different languages, English and their first language were plugged in depending on their preferences.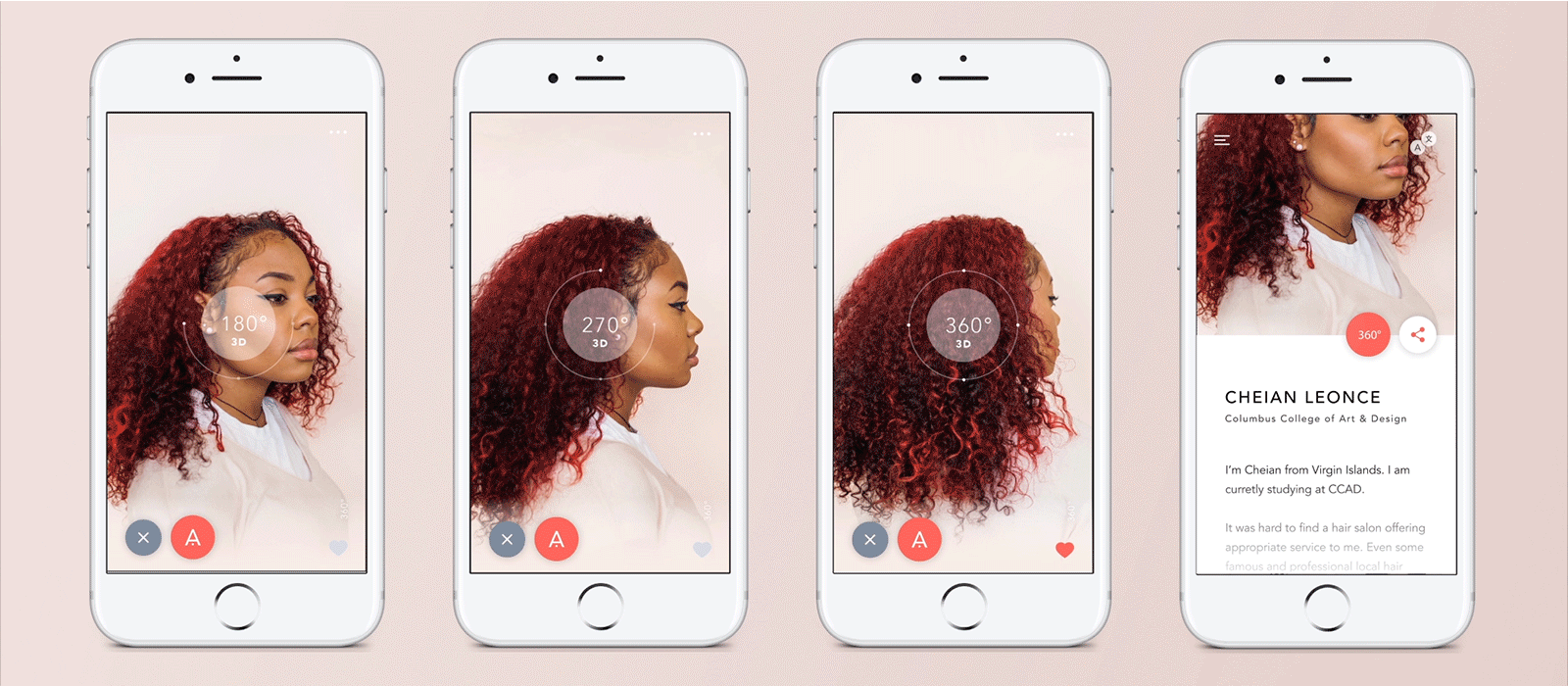 Lookbook | 360° Virtual View
Virtual view creates the experience of a full-screen 360 degree portraits of the Aveda International's unique hair lookbook collection. Users can select their favorite style, and then set up a schedule directly from the virtual view screen. 
Aveda International has the collateral design pieces, such as lookbook, hair products, and posters for the inclusive marketing approach. It will make the chance to embrace our international clients and speak to the full spectrum of different experience by using these diverse design materials.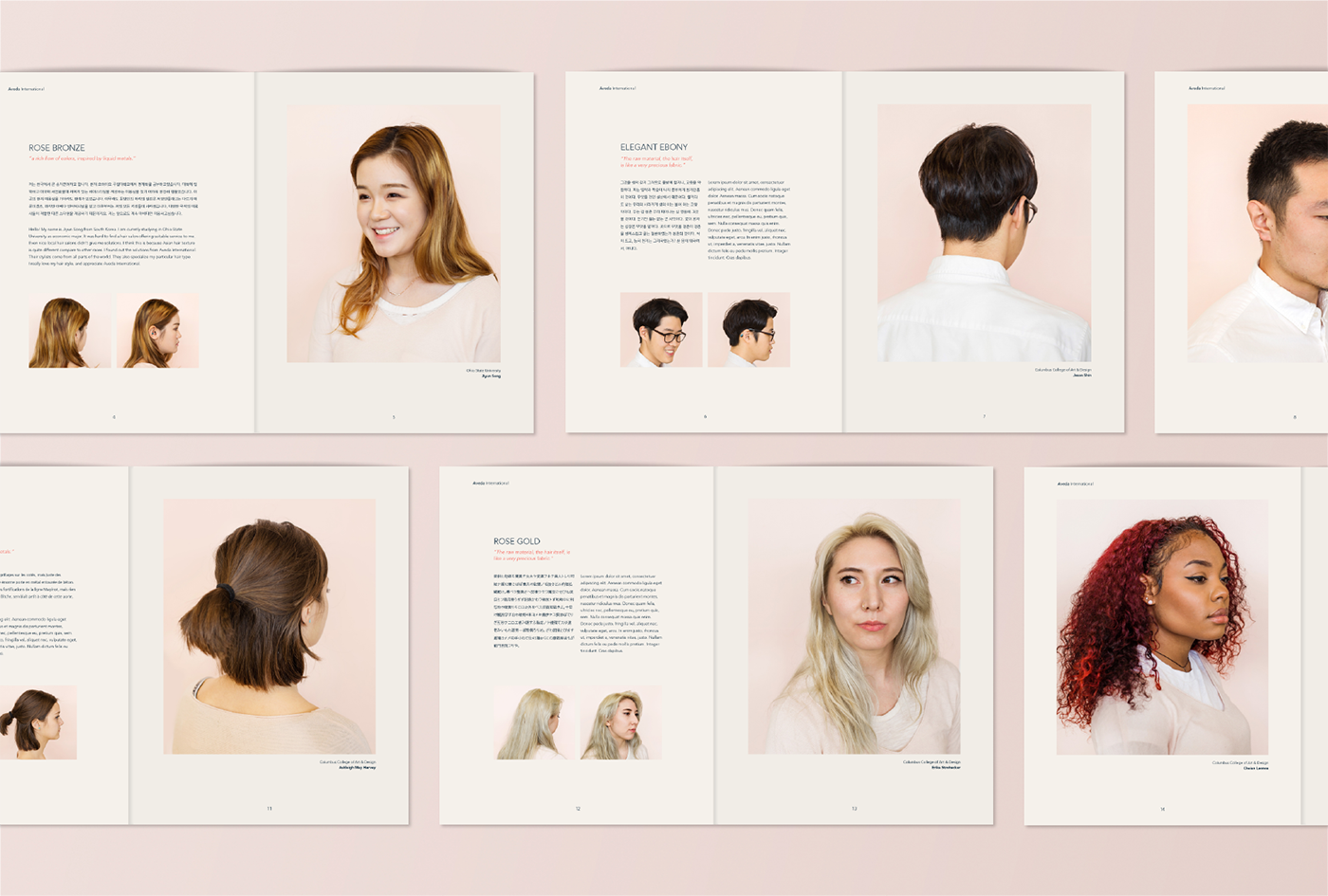 Our lookbook shows diverse hair models from different countries, and it shares their personal stories in the US with two different language, such as their first languages and English. Cosmetic products guide to beautiful and unique brand identity of Aveda International. Its subtle and timeless design strengthens our brand image to satisfy international clients and digital strategy.
​​​​​​​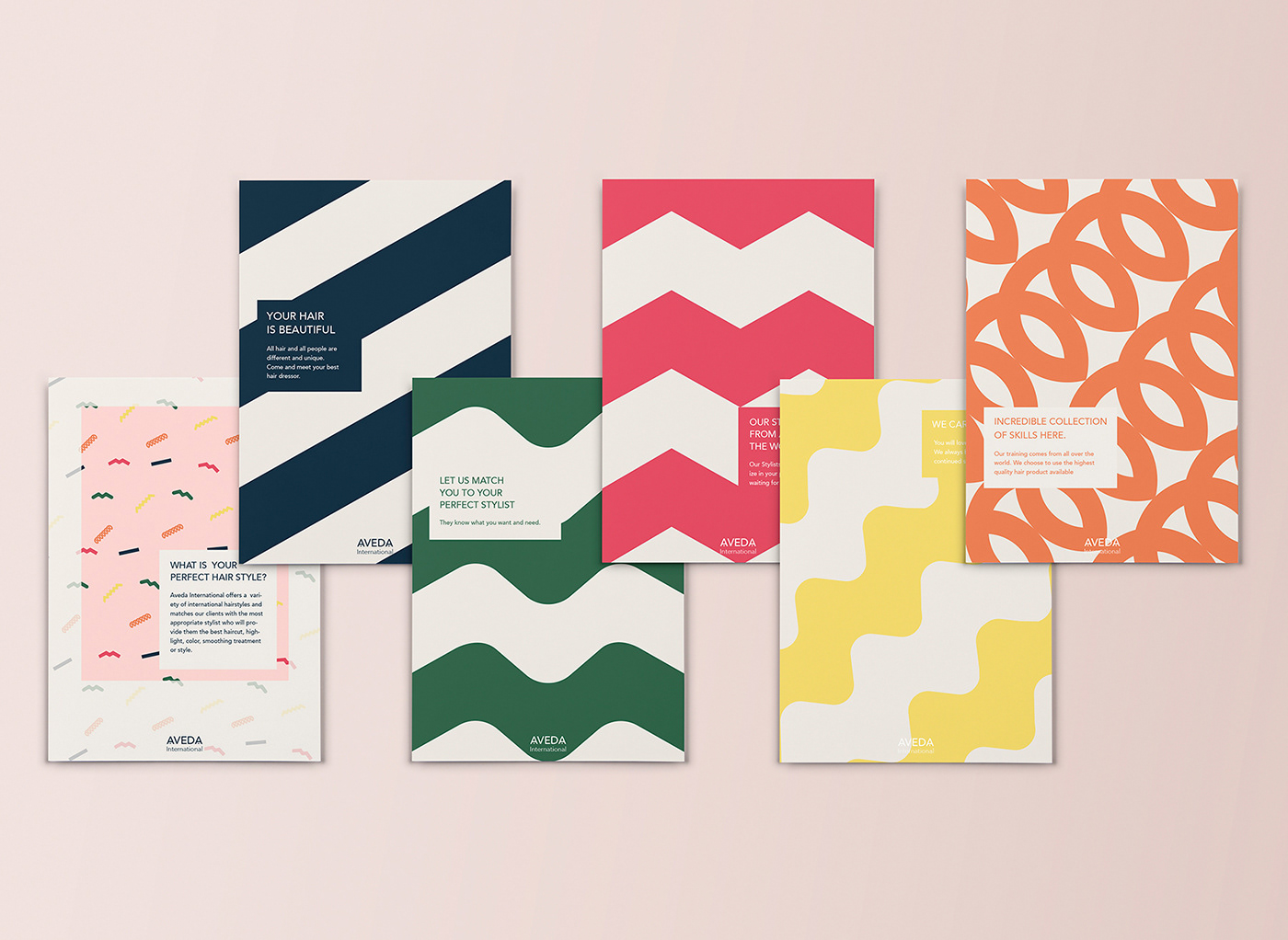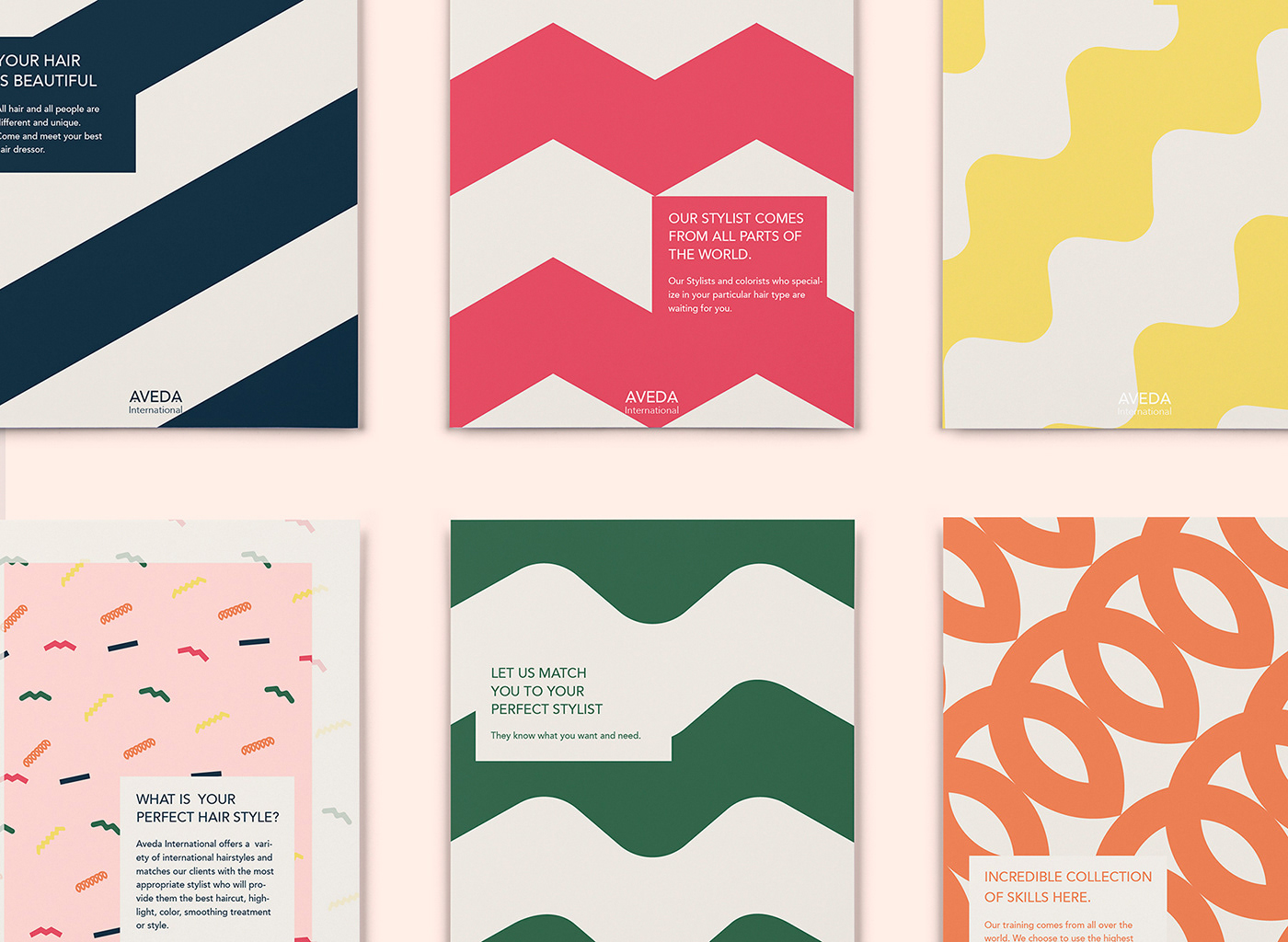 The series of posters represent the diversity of hair textures and styles. Iconic hair patterns representing straight, wavy, curly, kinky, and etc and its messages are very straightforward to attract our target audiences

What I have learned from Aveda International
I knew design is meaningless unless it is substantiated by relevant stories from the user's context. By interviewing my close 5 friends who have relevant experience, I could understand what they think, what they want, and what they need, and I could come up with better idea and solution. After this project, I try to increase open-mindedness and reduce the bias about the subject and try to have the attitude to collaborate with any others.
Esther Jung, Jiyun Song, Jason Shin, Liu Xiao Chang, Erika Strohecker, 
Ashleigh May Harvey, Cheian Leonce, Thu Thuy Nguyen, Gina Kwon